Rodney Lusk announces candidacy for Lee District supervisor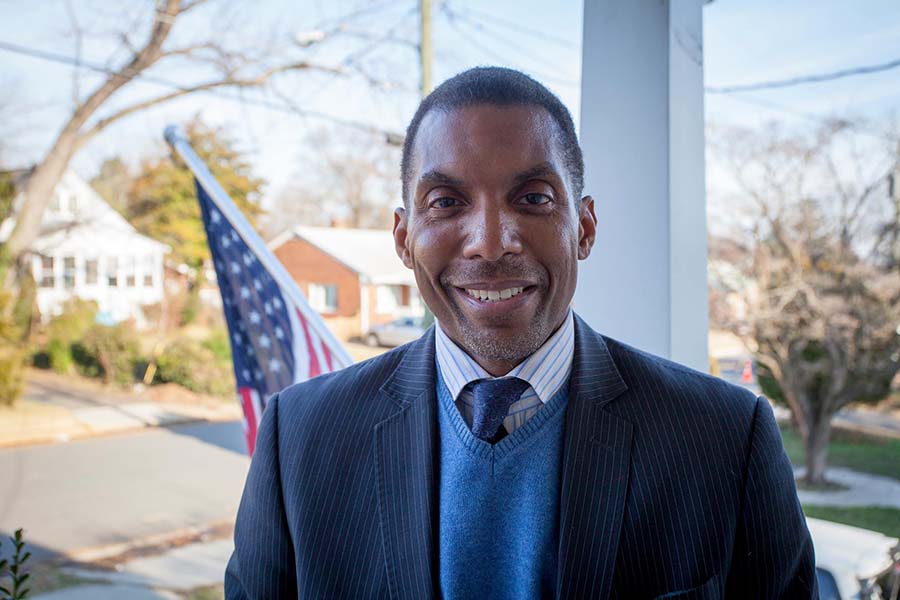 Longtime Fairfax County employee and civic activist Rodney Lusk announced Friday that he is running for Lee District Supervisor.
Lusk, a Democrat, is looking to fill the seat currently held by Jeff McKay, who announced earlier this month that he is running to be chairman of the Board of Supervisors. Lusk is the second candidate in two days to declare their intention to run for McKay's seat in 2019. Groveton resident Larysa Kautz announced her candidacy on Thursday.
In his campaign announcement, Lusk said he was running "to be the representative for all our residents," adding that he wants to work to ensure all community members have "equal access to affordable housing, employment, healthcare, education, and quality of life."
"Over this 29-year period I have seen many changes in the county, some that are good and others that need our collective attention," Lusk said in his announcement. "I am running for Lee District Supervisor to be the representative for all our residents, and to identify opportunities to ensure our entire community has equal access to affordable housing, employment, healthcare, education, and quality of life."
Lusk, 52, lives in the Hayfield area with his wife Jacquelyn and two daughters. He grew up in the city of Alexandria and attended T.C. Williams High School before graduating from the University of Virginia in 1988. Lusk has lived in Lee District for 18 years.
Raised by his grandparents, Lusk said the lessons they taught him and his brother at a young age for shaped the personal and political values that guide him today.
"My grandparents were very instrumental in teaching us the importance of hard work, [and of] giving back to your community and being of service to others," Lusk said Friday. "I have tried to live the legacy of my grandparents."
Lusk works as the national marketing director for the Fairfax County Economic Development Authority (FCEDA), a position he's held since 2009. He started at the EDA in 1998 and has worked for the county for 29 years.
Outside of his full-time job Lusk has served the county in a number of different capacities, including as Lee District Planning Commissioner from 2004-2010, at-large member of the Fairfax County Park Authority Board from 2002-2004, member of the Affordable Housing Resource Panel from 2017-present, and member of the Fairfax County Committee to Prevent and End Homelessness from 2008-present.
Earlier in his career Lusk was a land use zoning aide for former county supervisor and current U.S. Rep. Gerry Connolly (D-11). Connolly has already endorsed Lusk, calling him "the perfect choice to be the next Lee District Supervisor."
"I've known Rodney Lusk for over 20 years," Connolly said on Lusk's website. "During my time on the Board of Supervisors I depended on Rodney to handle some of the most critical issues that came through my office. He's a dynamic and innovative leader, with deep roots in our community. "
Lusk's other community work includes stints on the board of Leadership Fairfax, the Southeast Fairfax Development Corporation (SFDC), the Committee for Dulles, and Tyson's Regional Chamber of Commerce.
Lusk was also a member of the Embark Richmond Highway Advisory Group, which met regularly with county officials during the planning and development of the Embark guidelines from 2015-2018. Lusk said Thursday that serving on the advisory group and on the planning commission gave him a solid understanding of the issues facing the Richmond Highway corridor. Lusk hopes to jump start projects that will lead to more office space on the retail-dominated corridor, and thus attract higher-paying jobs.
"That was a challenge [when I was on the planning commission] and that's one that still persists," Lusk said. "We need the office because it provides the higher paying jobs. … It [also] helps us pay for our delivery of services."
Lusk said he hopes to propel the vision outlined in Embark Richmond Highway by attracting a university or community college to serve as a catalyst for an "innovation district" along the corridor. An incubator or accelerator program that supports emerging technologies, such as 3D printing or AI, could attract more companies by developing a creative ecosystem that furthers economic growth, he said.
"[T]his investment will lead to creating new businesses in the Lee District that focus on small scale production and emerging technology businesses," Lusk said.