Groveton resident announces candidacy for Lee District Supervisor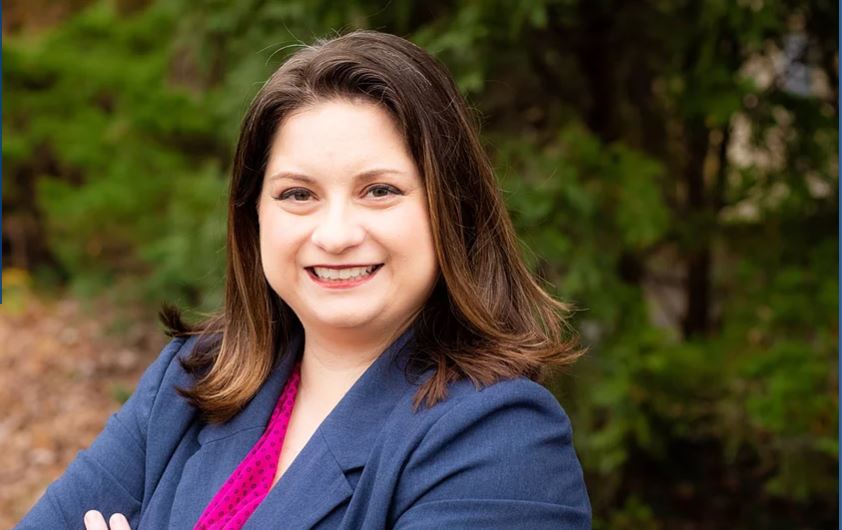 Larysa Kautz, a Groveton resident who serves as chief of staff for the non-profit organization Melwood, announced Thursday that she is running for Lee District supervisor as a Democrat.
Kautz, whose background includes more than 15 years of experience as a lawyer, is running for office for the first time. She said Thursday that she was inspired to get more involved in local politics after the 2016 election of Donald Trump. Kautz said she immersed herself in local issues and participated in the Emerge Virginia program, which prepares women who want to run as Democrats for office in the state.
"I understand the challenges our district and our county face from multiple angles and am very interested in listening so that I can make the best possible decisions for our great community," Kautz said in her announcement.
As a working mother and first-generation American, Kautz said she can provide a voice on the Board of Supervisors that does not currently exist. Born in Queens and raised in Newark, New Jersey, Kautz said her working-class background growing up shaped her political perspective.
"I understand what it's like to live and not know if you can pay your rent," Kautz said.
Kautz, whose 3-year-old son is on the autism spectrum, said she also developed a strong understanding of the needs of working families in need of social services. While her job provided her with insurance and flexibility to navigate the system, she realized that many families in similar situations lack access to needed services.
Her work at Melwood, which helps people with disabilities find jobs, receive services and live more independently, has also made access to care and inclusion part of her political platform.
"It really strikes me to the core," Kautz said. "That's one issue I'm super passionate about."
Kautz said she supported the Embark Richmond Highway plan, but says affordable housing and responsible development must be emphasized. A former Arlington resident, she said she's seen what it's like when areas get redeveloped and lower-income residents are forced out. With major redevelopment of Richmond Highway and other parts of Lee District likely in the next decade, Kautz said she wants to ensure that pattern is not repeated, particularly with the arrival of Amazon and the future expansion of the Yellow Line.
"I see what happens when there's really large and quick development," Kautz said. "I watched people have to move out because they couldn't afford the rent."
Kautz, 40, is the first candidate to throw her hat in the race to replace Jeff McKay, who announced earlier this month that he's running for chairman of the Board of Supervisors. McKay, who has served as Lee District supervisor since 2008, is running to replace Sharon Bulova, who will retire after her term exprires at the end of 2019.
No other candidates have announced their intentions to run for McKay's spot, but sources have told Covering The Corridor that at least 2-3 other residents are considering runs.
In addition to serving as general counsel and chief of staff for Melwood, Kautz serves on the Fairfax County Advisory Social Services Board and the Fairfax County Adult and Community Education (ACE) Advisory Committee. She is also a member of the Virginia State Rehabilitation Council for the Blind and Vision Impaired.
Kautz is a graduate of the Yale Law School and earned an LLM degree in tax law from the Georgetown University Law Center. She lives in Groveton with her husband and son.