Police blotter: Man arrested after hours-long standoff
A standoff in the usually quiet Stoneybrooke neighborhood ended peacefully Tuesday after a man surrendered to officers.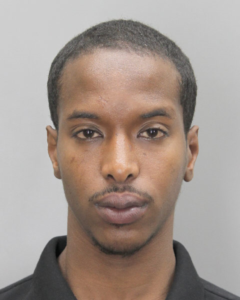 Mohamed Roble, 25, was taken into custody a little after noon, ending a situation that the police described as a "warrant service" for outstanding charges against Roble for burglary, larceny, assault and destruction of property.
Officers came to a house in the 6800 block of Lamp Post Lane (see map) sometime before 8 a.m. after a reported domestic assault. Some sort of standoff ensued, with officers from the FCPD's Special Operations Division called in. Nearby residents were ordered by police not to leave their houses. Groveton Elementary School, which borders the house where the standoff occurred, was put in secure-the-building status, which means nobody is allowed to enter or leave.
Roble is currently being held without bond at the Fairfax County Adult Detention Center.
This is not Roble's first brush with the law. He has an extensive arrest record in Fairfax County, according to general court records. In 2017 he was charged with felony assault and robbery for an incident in Hybla Valley, but records indicate those charges were dropped. Roble has also been arrested for drunk in public more than 20 times, according to general district court records.
Other incidents reported in Wednesday's police blotter in the Mount Vernon police district:
Larceny: 4000 block of Fielding Street, tools from school
Larceny 6900 block of Harrison Lane, cell phone from school
Larceny: 2300 block of Huntington Avenue, beers from business
Larceny: 5700 block of Metroview Parkway, cash and property from vehicle
Larceny: 6200 block of Richmond Highway, merchandise from business
Larceny: 6300 block of Richmond Highway, ice cream from business
Larceny: 8000 block of Richmond Highway, cash from business
Larceny: 6600 block of South Kings Highway, wallet and purse from location