School year done, restrictions on gatherings tightened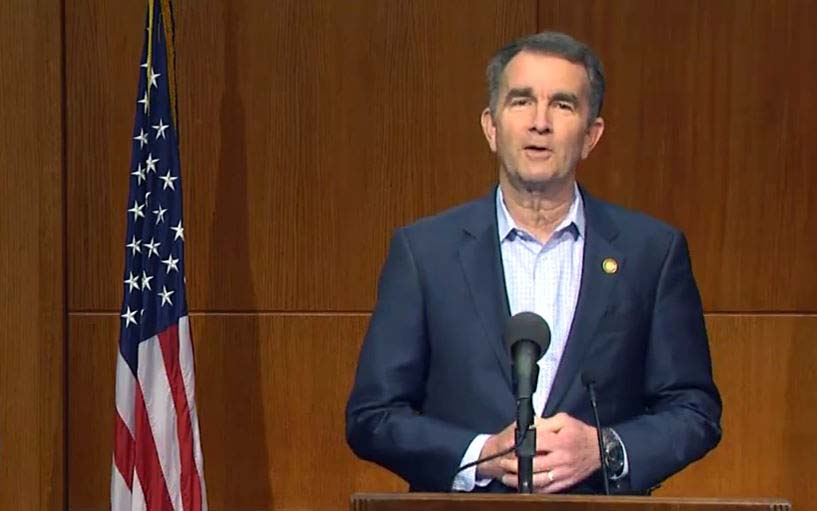 Gov. Ralph Northam announced Monday that schools throughout Virginia will be closed through the end of the academic year as part of the state's response to the coronavirus pandemic.
Northam also tightened restrictions around restaurants, saying they must be closed except for carryout and delivery service. Fitness centers, theaters, bowling alleys and similar entertainment venues must all be completely closed.
"I know the next several weeks will be difficult," Northam said. "These restrictions on non-essential businesses will create hardships on the businesses and employees affected. But they are necessary, and we do not undertake them lightly. I am calling on Virginians to sacrifice now, so that we can get through this together."
Northam's order goes into effect at 11:59 p.m. on Tuesday. For now it will run through April 23. An FAQ on the order can be read here.
More deaths in state; McKay pleads for more tests
The number of coronavirus-related deaths in Virginia jumped to six as of Monday morning, and in Fairfax County there were 12 new positive cases. Fairfax — the largest jurisdiction in Virginia — now has a total of 43 known coronavirus cases, which is the highest in the state.
Fairfax County Board of Supervisors Chairman Jeff McKay sent a letter to President Trump on Monday asking that the D.C. area be added to the priority locations for federally supported coronavirus testing sites. A lack of tests continues to be an issue for most of the nation, including Fairfax County.
"The National Capital Region is home to over 6 million residents and the seat of the federal government, with hundreds of thousands of employees and contractors serving the country," McKay wrote. "The health of the National Capital Region is a top priority for the continuity of our democratic government and critical to continuing federal government functions."
Fairfax County also made two significant coronavirus related announcements on Monday:
Passengers on Fairfax Connector buses will now enter and exit the bus through the rear doors. Fares will not be collected. Wheelchair users can still use the front ramp.
All Park Authority playgrounds, skate parks and restrooms will be closed until further notice. Portable restrooms will be placed near all bathrooms.
Fairfax County Public Schools Superintendent Scott Brabrand sent a letter after Northam's annoucement saying that more information regarding distance learning would be coming after the system received guidane from the Virginia Department of Education. The Fairfax County School Board also was to have held an emergency session on Monday afternoon.
Brabrand said all spring activities and extracurricular events were cancelled in light of the governor's announcement. FCPS will also be waiting for state direction on how graduation requirements will work for high school seniors.
"In addition, VDOE will also issue guidance about what graduation requirements will look like for our 12th grade students and expectations for grading and academic year completion for all of our students," Brabrand said.
New grab-and-go hours
Starting Tuesday there will be new hours for FCPS's grab-and-go meals program. It will continue to operation Monday through Friday, but will now be from 9 a.m. until 1 p.m.
There are many locations in the Richmond Highway area where families can pick up the meals:
Audubon Apartments, 7955 Audubon Avenue (see map) (10-10:30 a.m.)
Bucknell Elementary School, 6925 University Drive (see map)
Cameron Elementary School, 3434 Campbell Drive (see map)
Edison High School, 5891 Franconia Road (see map)
Fort Belvoir Upper Elementary School, 5980 Meeres Road
Gum Springs Community Center, Fordson Road (see map) (11-11:30 a.m.)
Hollin Meadows Elementary School, 2310 Nordok Place (see map)
Hybla Valley Elementary School, 3415 Lockheed Boulevard (see map)
Lorton Station Elementary School, 9298 Lewis Chapel Road (see map)
Mount Vernon Woods Elementary School, 4015 Fielding Street (see map)
Sacramento area, 8792 Sacramento Drive (see map) (from 10:52 a.m. to 11:02 a.m)
South County High School (see map)
You can view the full list of schools here.
Current coronavirus cases breakdown:
Cases in Fairfax County: 43 (as of March 23)
Tests Fairfax County: Unknown (as of March 23)
Deaths in Fairfax County: 1 (as of March 23)
source: Fairfax Department of Health
---
Cases in Virginia: 219 (as of March 23)
Tests in Virginia: 3,697 (as of March 23)
Deaths in Virginia: 6 (as of March 23)
Hospitalizations in Virginia: 38
source: Virginia Department of Health
---
Cases in U.S. 33,404 (as of March 23)
Tests in United States: unknown (as of March 23)
Deaths in United States: 400 (as of March 23)
source: CDC.gov (note: the CDC does not update numbers on weekends)