Coronavirus cases continue to jump in county and state; governor urges residents to stay home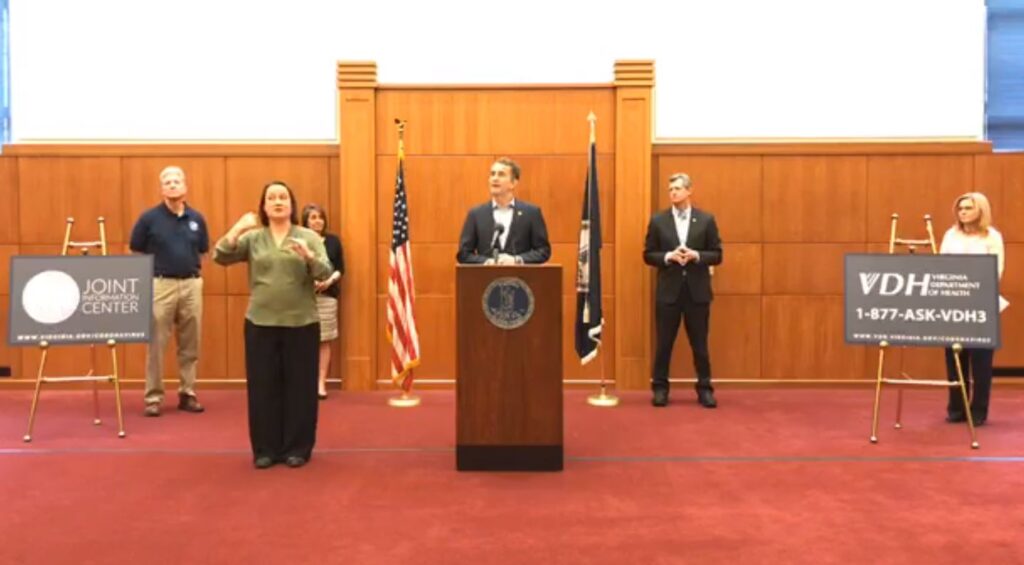 The Fairfax County Health Department reported nine new coronavirus cases on Sunday as Virginia Gov. Ralph Northam again urged residents to stay home to slow the spread of COVID-19.
The number of presumptive positive coronavirus cases in Fairfax County have nearly doubled in the span of three days. After no new cases were reported Friday, officials reported six new positive tests on Saturday and then the nine on Sunday, bringing the total in the Fairfax County Health District to 31. The Fairfax County Health District includes the county, the City of Falls Church and Fairfax City.
On Saturday the county reported that a patient at a local hospital had died from coronavirus-related respiratory illness. The man, who was not identified, was in his 60s. Washington D.C. reported its first coronavirus-related death on Friday, while Montgomery County announced its first on Sunday.
Statewide the number of positive cases surged from 152 to 219 on Sunday. At a press conference on Sunday morning, Gov. Ralph Northam said the increase was related to the continued spread of the virus as well as the increase in the number of tests the state can now perform.
Northam emphasized more than once during the press conference that the current health crisis caused by the spread of coronavirus would last months, not weeks, and urged residents to take precautions to slow the spread of the illness.
"We talk about flattening the curve, but make no mistake, we are still in the early stages of that curve rising," Northam said. "How high and how quickly that curve rises is up to you, and me, and every single Virginian."
Northam has banned gatherings of 10 more in the state, and said Sunday that local jurisdictions need to use their power to enforce that ban. He called for people to stay away from beaches, to not have parties and to continue maintaining distance when making essential trips to the grocery store or pharmacy.
"Some people are not listening. You are putting every single one of us in Virginia at risk," Northam said. "If a restaurant is violating the 10 patron rule, you need to shut them down."
Current coronavirus cases breakdown:
Cases in Fairfax County: 31 (as of March 22)
Tests Fairfax County: Unknown (as of March 22)
Deaths in Fairfax County: 1 (as of March 22)
source: Fairfax Department of Health
---
Cases in Virginia: 219 (as of March 22)
Tests in Virginia: 3,337 (as of March 22)
Deaths in Virginia: 3 (as of March 22)
source: Virginia Department of Health
---
Cases in U.S. 15,219 (as of March 20)
Tests in United States: unknown (as of March 20)
Deaths in United States: 201 (as of March 20)
source: CDC.gov (note: the CDC does not update numbers on weekends)