Inova, county have no plans for drive-thru coronavirus testing at moment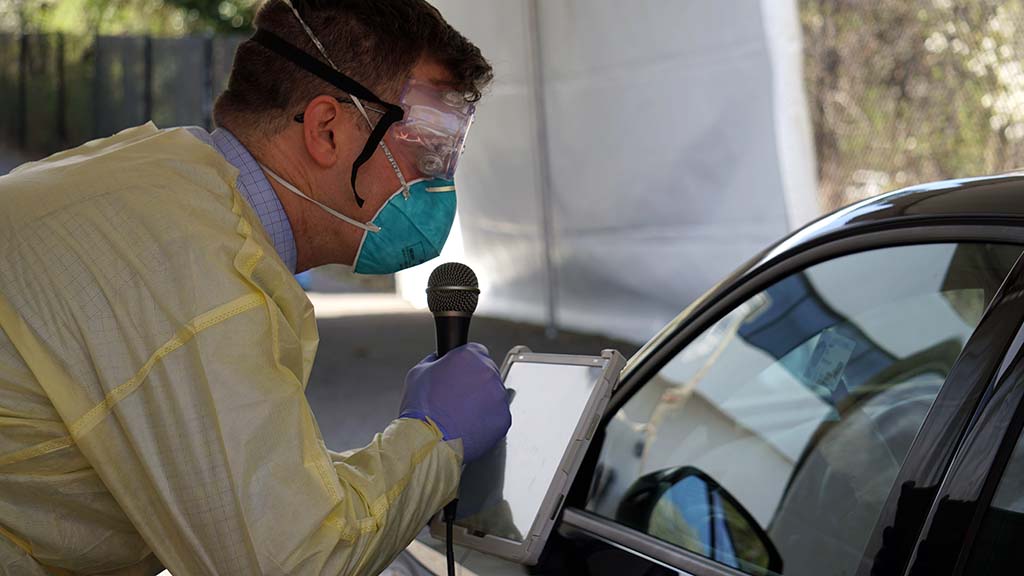 Inova has no plans at this time to set up drive-through coronavirus testing at any of its hospitals in Fairfax County, a spokeswoman said Thursday.
Inova, the largest hospital system in Northern Virginia and the owner of Mount Vernon Hospital, said it looked at the possibility of drive-through testing, but found that it does not have enough testing kits for that currently.
"We explored the use drive-thru testing; however, due to limited testing kits available nationwide, it is not an option at this time," said Inova spokeswoman Tracy Connell. "Inova evaluates all patients and ensures necessary testing is conducted while preserving the capability to continue sustained testing."
Connell said some Inova sites do have tests to assist in screening patients prior to entry into hospitals. Inova operates six hospitals in Northern Virginia, with three in Fairfax County.
Drive-through tests have been slow to open up across the country, as the U.S. has lagged behind other nations in coronavirus testing. Currently Arlington County operates the only such site in Northern Virginia. The tests are being conducted by Virginia Hospital Center, and are for Arlington residents and Arlington County employees only.
A teacher at Lynbrook Elementary School in Springfield who has coronavirus shared her and her husband's struggles to get testing in a Facebook past last week. While praising the health care professionals on the front line dealing with potential coronavirus cases, the teacher described encountering a chaotic and inefficient testing process while trying to determine if she had coronavirus.
"I am absolutely aghast at how this pandemic is being handled. On our first of four ER visits, we were told to go home and go back to work when my husband's fever broke (after flu, blood, and urine tests)," the teacher wrote. "My husband is an EMT who primarily transports elderly patients. If we had taken this advice, we would have endangered countless people."
A spokeswoman for the Fairfax County Health Department said that for now anyone having symptoms consistent with coronavirus should first contact their own doctor first and follow their instruction.
"Individuals with symptoms and a known exposure to COVID-19 should contact their health care provider to discuss testing options," said Ali Althen. "The Fairfax County Health Department can approve testing that is performed at the Virginia state laboratory for patients who meet specific criteria established by the Virginia Department of Health, otherwise, physicians can order the test for patients through commercial laboratories based on their clinical judgment."
Number of tests unknown
While there have been more than 1,900 coronavirus tests statewide as of Thursday — an increase of nearly 600 over the previous day — it's unclear how many of those were done in Fairfax County, which currently has 16 total cases.
The county's health department referred an inquiry about the number of tests to the Virginia Department of Health. A spokeswoman for the Virginia Department of Health said the no breakdown by jurisdiction is available.
Private health providers are not required to report the number of tests to the county, a county official said.
The Fairfax Health District — which includes Fairfax County, Fairfax City and the City of Falls Church — reported its 15 case on Thursday morning. A resident of an assisted living facility in the City of Falls Church had been isolated since March 14 and was tested on March 16, according to the Fairfax County Health Department.
Fairfax County now has a breakdown of the positive tests in the county on its website. So far no cases are known to be related to social spread, only direct contact with others who have coronavirus.
Statewide, Thursday saw a 22 percent jump in the total number of positive cases around Virgina. Arlington County has the most with 17.
Current coronavirus cases breakdown:
Cases in Fairfax County: 16 (as of March 19)
Tests Fairfax County: Unknown (as of March 19)
Deaths in Fairfax County: none (as of March 19)
source: Fairfax Department of Health
---
Cases in Virginia: 94 (as of March 19)
Tests in Virginia: 1,923 (as of March 19)
Deaths in Virginia: 2 (as of March 19)
source: Virginia Department of Health
---
Cases in U.S. 7,038 (as of March 18)
Tests in United States: unknown (as of March 18)
Deaths in United States: 97 (as of March 18)
source: CDC.gov