Video: Incredible finish gives Mount Vernon relay team a district title
The Mount Vernon boys 4 x 200 meter relay team brought the gym to its feet with an amazing victory at last weekend's Gunston District Indoor Track championships at Episcopal High School.
The Majors edged top-seeded T.C. Williams by .06 seconds after a final lap comeback by senior Jordyn Reid, whose effort helped Mount Vernon finish in 1:34.7 — the second-fastest time in the 4 x 200m in school history.
Mount Vernon had been in second place through the first three legs of the race after T.C. got off to a great start. Still behind by more than 10 meters as the fourth leg began, Reid — also a standout football player for the Majors — immediately cut into T.C.'s big lead on the first straightaway and then finished the comeback just before the finish line.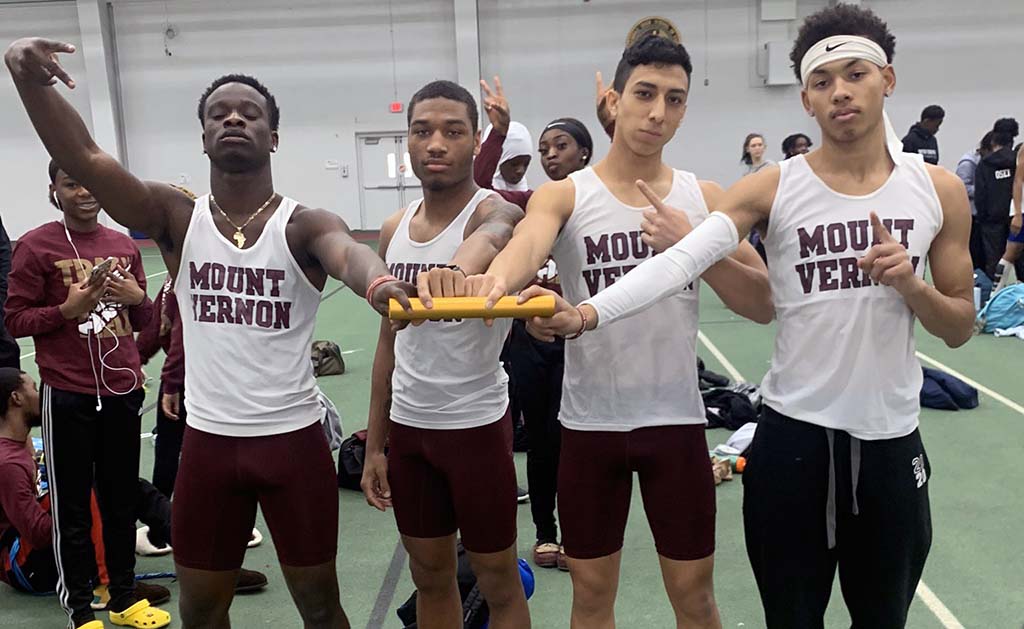 Mount Vernon coach Bria Patnett said the 4 x 200 team overcame injuries, changing members and baton handoff issues during the season. With that behind them now, they will be competing in the Occoquan Regional meet this weekend and have their eyes on both the school record (1:34.64) and a qualifying score for the state meet (1:33.8) later this month.
T.C. Williams went on to win the meet overall on both the boys and girls sides, with West Potomac coming in second place on each side.
Individual winners from Richmond Highway-area schools included:
Mount Vernon's Jessica Nyamekye (girls long jump and 55m dash)
West Potomac's Doval Simmonds (boys 55m dash and 300m dash)
West Potomac's David Underwood (boys 1,600m run and 1,000m run)
West Potomac's Greer Jones (girls high jump)
Mount Vernon's Jaylen Wooten (boys high jump)
West Potomac's Anthony Malone (shot put)
Hayfield's Delvin Amoako (boys 55m hurdles)
Hayfield's Sydney Blackston (girls 1,600m run)
West Potomac's Luke Schroeder (boys 500m dash)
Full results of the 2020 Gunston District Indoor Track and Field Championships:
Girls Team Rankings
T.C. Williams: 162.50
West Potomac 86
Hayfield 80
Annandale 80
Mount Vernon 51.50
Boys Team Rankings
T.C. Williams 115
West Potomac 107
Annandale 84
Hayfield 80
Mount Vernon 75
Girls Long Jump
Jessica Nyamekye (11) Mount Vernon: 6-02.50
De'Shawn Wright (11) West Potomac: 14-11.00
Jeciana Rivera (10) Hayfield: 14-06.75
A`rai Hyman (11) T.C. Williams: 14-06.00
Iris Castro (12) T.C. Williams: 14-03.00
Jessica Foss (12) West Potomac: 14-01.50
Cierra Brown (12) T.C. Williams: 13-02.00
Caroline Carter (9) Hayfield: 12-09.00
Maria Shipe (10) Hayfield: 12-06.50
Taylor Poe (11) Annandale:12-05.75
Eldana Mengistu (10) Annandale:9-10.00
Limia Bahar (10) Annandale: 9-06.00
Boys Long Jump
David Coles (11) T.C. Williams: 20-05.50
Gabriel Dade (11) Mount Vernon: 8-11.00
Christian DiNicolantonio (11) Hayfield: 18-05.25
Miles Lanham (9) Annandale: 17-11.50
Jonathan Milian (10) Annandale: 17-11.00
Eli Conger (10) T.C. Williams: 17-05.00
Jaiden Harris (12) Mount Vernon: 17-04.25
Jamison Taylor (10) T.C. Williams: 16-07.50
Terrance Boakye (11) Hayfield: 16-04.50
Ibrahim Elfaki (11) Annandale: 16-00.00
Girls Triple Jump
Cierra Brown (12) T.C. Williams: 31-05.50
Ernestine Hallowell T.C. Williams: 31-01
Savannah Williams(11) Mount Vernon: 30-06.50
Taylor Poe (11) Annandale: 29-01.00
Limia Bahar (10) Annandale: 27-03.75
Sheila Sindhi (10) Annandale: 26-08
Boys Triple Jump
David Coles (11) T.C. Williams: 44-01.75$
Jaiden Harris (12) Mount Vernon: 42-03.50
Miles Lanham (9) Annandale: 40-01.50
Travien Tolber (12) Mount Vernon: 9-06.00
Benjy Bentil (11) Mount Vernon: 38-07.00
Jonathan Milian (10) Annandale: 34-08.00
Ibrahim Elfaki (11) Annandale: 33-04.00
Girls High Jump
Greer Jones (10) West Potomac: 4-08.00
Kayla Campbell (12) Annandale: 4-08.00
Olivia Helal (12) West Potomac: 4-02.00
Maria Shipe (10) Hayfield: 4-02.00
Hasaani Plaskett (10) Mount Vernon: 4-02.00
Tamia Charles (9) T.C. Williams: 4-00.00
Savannah Williams (11) Mount Vernon: 4-00.00
Leah Biwott (11) West Potomac: 4-00.00
Boys High Jump
Jaylen Wooten (12) Mount Vernon: 6-00.00
Tsiyeto Mckuzamba (10) Annandale: 5-10.00@
David Coles (11) T.C. Williams: 5-10.00
Jordyn Reid (12) Mount Vernon: 5-10.0
Xavier Carmichael (10) Hayfield: 5-10.00
Caleb Krugh (10) Mount Vernon: 5-06.00
Ezra DeBerry (11) West Potomac: 5-04.00
Austin Ortel (11) West Potomac: 5-04.00
Jacob Dodoo (11) West Potomac: 5-04.00
Girls Shot Put
Wisdom Williams (10) T.C. Williams: 40-05.75
Zaira Bridges (12) T.C. Williams: 36-08.75
Emily Shawish (12) Annandale: 30-09.25
Tiffany Oduro (12) Hayfield: 28-05.50
Sarah Baluch (10) Annandale: 27-01.25
Nekia Aiken (10) Hayfield: 26-05.25
Gianna Biagioni (10) Hayfield: 26-04.50
Maggie Thompson (11) West Potomac: 25-10.00
Grace Viani (10) West Potomac: 25-05.75
Lucy Altwies (9) West Potomac: 24-06.75
Kennedy Beal (9) Annandale: 23-10.25
Kori Jackson (12) Mount Vernon: 23-06.50
Carmela Dangle (10) Mount Vernon: 23-00.50
Tamia Charles (9) T.C. Williams: 21-10.00
Rifah Moin (10) Mount Vernon: 17-06.50
Boys Shot Put
Anthony Malone (12) West Potomac: 46-01.25
Andy Zepada (11) Annandale: 44-11.25
Eshawn Hudson (12) Mount Vernon: 42-01.00
Dylan Gill (11) Annandale: 39-02.00
Keymonne Brown (12) West Potomac: 39-00.50
Alfredo Fuentes (12) West Potomac: 37-09.25
Jonathan Moye (11) Hayfield: 36-01
Junior Atutse (9) Hayfield: 35-00
Isaiah Everett (10) Hayfield: 34-10
Sena Deressa (12) Mount Vernon: 34-03.25
Bram Amron (10) T.C. Williams: 33-05.75
Zak Belkayat (12) Annandale: 33-02
Steven Benavides (9) T.C. Williams: 31-08.50
Sekou Koram (12) T.C. Williams: 29-07.00
Girls Pole Vault
Madeline Crowe (9) T.C. Williams: 9-06
Kaitlin Peters (10) T.C. Williams: 9-01
Cara Martin (10) T.C. Williams: 8-00
Mariama Sangare (12) T.C. Williams: 8-06
Maura Munson (10) T.C. Williams: 8-00
Lelia Duhe (9) Hayfield: 7-00
Boys Pole Vault
Kalkidan Gebiso (12) T.C. Williams: 14-04
Christian DiNicolantonio (11) Hayfield: 12-00
Joshua Hernandez (10) T.C. Williams: 12-00
Jamison Taylor (10) T.C. Williams: 11-06
Zecharias Brown (12) T.C. Williams: 11-06
Luke Hawn (10) Hayfield: 7-06
Ryan Kiefer (10) Hayfield: 7-00
Girls 4×800 Meter Relay
Hayfield: 10:13.6
West Potomac: 10:15.26
T.C. Williams: 10:23.37
Annandale: 10:24.95
Boys 4×800 Meter Relay
Hayfield: 8:33.67
Annandale: 8:33.74
West Potomac: 8:35.02
T.C. Williams: 8:38.78
Mount Vernon: 9:10.66
Girls 55 Meter Hurdles
Kayla Campbell (12) Annandale: 8.72
Ashley Walthall (11) Mount Vernon: 10.13
Sydney Wilmes (10) Annandale: 10.22
Oprah Sarpong (10) West Potomac: 10.90
Arianna Stodgel (11) T.C. Williams: 11.04
Maria Shipe (10) Hayfield: 11.90
Boys 55 Meter Hurdles
Delvin Amoako (11) Hayfield: 8.40
Daniel McCullough (11) T.C. Williams: 8.60
D'Marcel Boadu (11) Hayfield: 8.70
Jalen Foster (12) Mount Vernon: 9.04
Tayvon McManemy (10) Mount Vernon: 9.12
Girls 55 Meter Dash
Jessica Nyamekye (11) Mount Vernon: 7.46
Marisa Fischer (9) T.C. Williams: 7.67
A`rai Hyman (11) T.C. Williams: 7.86
Kelsey Lazard (12) Annandale: 8.09
Hasaani Plaskett (10) Mount Vernon: 8.10
Allauna Harrison (12) Annandale: 8.13
Boys 55 Meter Dash
Doval Simmonds (12) West Potomac: 6.55
Xavier Carmichael (10) Hayfield: 6.56
Daniel Fox (12) T.C. Williams: 6.56
Daniel Danso (12) Mount Vernon: 6.64
Jordyn Reid (12) Mount Vernon: 6.79
Edson Martinez (11) Annandale: 6.98
Girls 4×200 Meter Relay
T.C. Williams: 1:53.18
Mount Vernon: 1:55.74
Hayfield: 1:57
West Potomac: 1:58
Annandale: 1:59
Boys 4×200 Meter Relay
Mount Vernon: 1:34.70
T.C. Williams: 1:34.76
Hayfield: 1:37.65
Annandale: 1:38.69
West Potomac: 1:38.93
Girls 1,600 Meter Run
Sydney Blackston (11) Hayfield: 5:38.72
Madeline Dosen (10) Annandale: 5:44.58
Eliza Medearis (12) T.C. Williams: 6:01.58
Isabella Newman (10) West Potomac: 6:05.12
Acacia McCabe (12) Hayfield: 6:08.36
Corinna Keum (11) T.C. Williams: 6:10.3
Eleanor Kolovos (9) Mount Vernon: 6:17.73
Heather Thompson (12) West Potomac: 6:18.27
Annabelle O'Bryan (12) West Potomac: 6:18.29
Emily Martindale (10) Annandale: 6:19.34
Charlotte Regen (9) T.C. Williams: 6:23.24
Mary Sliger (9) Mount Vernon: 6:47.78
Rachelle De Leon (12) Mount Vernon: 6:49.62
Boys 1,600 Meter Run
David Underwood (12) West Potomac: 4:42.57
Mohamed Bile (12) Annandale: 4:46.29
Devin Kohout (12) T.C. Williams: 4:46.46
Rory Kretzer (10) West Potomac: 4:49.32
Liam Stafford (11) Mount Vernon: 4:51.13
Eyosyas Damte (10) T.C. Williams: 4:51.58
Miles Snowdon (11) Hayfield: 4:54.78
Stephan Toussaint (12) Hayfield: 4:55.09
Harper Casey (11) West Potomac: 4:57.65
Malik Kunata (9) T.C. Williams: 4:58.56
Vincent Dinicolantonio Hayfield: 5:04.24
Brandon Santangelo (10) Mount Vernon: 5:08.94
Xavier Almodovar (10) Annandale: 5:11.92
Alex Burita (11) Annandale: 5:13.02
Javier Johnson (10) Mount Vernon: 5:23.8
Girls 500 Meter Dash
A`rai Hyman (11) T.C. Williams: 1:25.33
Jillian Ylagan (10) West Potomac: 1:25.34
Mariama Bangura (9) Hayfield: 1:27.64
Morgan Fraser (9) T.C. Williams: 1:27.77
Kaylin Brown (12) Hayfield: 1:28.53
Isabella Pureza (10) Mount Vernon: 1:28.80
Greer Jones (10) West Potomac: 1:30.44
Camille Cortes (10) Annandale: 1:30.5
Caroline Carter (9) Hayfield: 1:30.95
France Tarnue (10) Annandale: 1:31.35
Anna Friedman (9) West Potomac: 1:32.09
Daniela Dosen (10) Annandale: 1:32.12
Ashley Walthall (11) Mount Vernon: 1:36.53
Boys 500 Meter Dash
Luke Schroeder (10) West Potomac: 1:08.08
Victor Vassallo (12) T.C. Williams: 1:09.08
Hamid Sesay (10) T.C. Williams: 1:09.79
McJuby Absolu (12) West Potomac: :12.02
Erik Jacobson (12) T.C. Williams: 1:13.33
Aldo Nativi (11) Hayfield: 1:13.66
Omar Avendano (12) Annandale: 1:14.34
Christian DiNicolantonio Hayfield: 1:14.54
Elvis Alvarez (11) Mount Vernon: 1:15.55
Alex Seok (11) Annandale: 1:15.78
Garrett Argentieri(12) West Potomac: 1:16.46
Samson Carter (11) Hayfield: 1:17.74
Mitchell Durden (10) Mount Vernon: 1:17.98
Johnny Mena (10) Annandale: 1:22.56
Tayvon McManemy (10) Mount Vernon: 1:26.04
Girls 1,000 Meter Run
Cynthia Nguyen (12) Annandale: 3:18.65
Aminata Johnson (10) West Potomac: 3:22.13
Sydney Blackston (11) Hayfield: 3:22.97
Oliva So (9) Hayfield: 3:23.89
Nora Gentry (12) T.C. Williams: 3:25.35
Dylan Hline (11) T.C. Williams: 3:25.38
Emery Lindblom (9) West Potomac: 3:26.80
Isabelle Teinfalt (10) Annandale: 3:36.31
Katrina Kulinski (11) West Potomac: 3:42.38
Riley Alexander (9) Hayfield: 3:42.41
Alana Cohen (10) T.C. Williams: 3:47.15
Rachelle De Leon (12) Mount Vernon: 3:57.64
Sofia Marigliano (10) Annandale: 4:05.72
Boys 1,000 Meter Run
David Underwood (12) West Potomac: 2:43.57
Matthew Wier (12) Hayfield: 2:44.36
Yeabsira Sahlu (10) Annandale: 2:48.44
Stephan Toussaint (12) Hayfield: 2:49.2
Mousa Ayoub (11) Annandale: 2:49.22
Sebastian Ballestero Far (11) T.C. Williams: 2:49.55
Yoftahe Hailu (10) Annandale: 2:49.60
Maxton Sowers (11) West Potomac: 2:53.82
Liam Stafford (11) Mount Vernon: 2:54.13
Zach Fuhrman (11) T.C. Williams: 2:56.25
Iain Hil (10) T.C. Williams: 2:56.48
Brandon Santangelo (10) Mount Vernon: 3:02.87
James Bransford (9) West Potomac: 3:07.43
Ibrahim Hussain (10) Mount Vernon: 3:09.05
Desmond Romero (9) Hayfield: 3:10.19
Girls 300 Meter Dash
Emma Reynolds (11) T.C. Williams: 43.60
Kelsey Lazard (12) Annandale: 44.78
Leah Biwott (11) West Potomac: 45.67
Jeciana Rivera (10) Hayfield: 45.86
Allauna Harrison (12) Annandale: 45.88
Jessica Foss (12) West Potomac: 46.3
Olivia Helal (12) West Potomac: 46.80
Nasiya Brown (10) Mount Vernon: 47.68
Merridith Harrison (10) Annandale: 48.09
Caroline Carter (9) Hayfield: 49.59
Yasmin Salam (9) Mount Vernon: 50.05
Hasaani Plaskett (10) Mount Vernon: 51.56
Boys 300 Meter Dash
Doval Simmonds (12) West Potomac: 37.24
Luke Schroeder (10) West Potomac: 37.44
Daniel Fox (12) T.C. Williams: 37.52
Daniel Danso (12) Mount Vernon: 37.64
Jackson Hart (11) West Potomac: 38.60
Zachary Hurd (10) Annandale: 38.82
Jalen Foster (12) Mount Vernon: 38.83
Jordy Reyes (12) Mount Vernon: 38.98
Xavier Carmichael (10) Hayfield: 39.27
Jonathan Milian (10) Annandale: 39.33
Daniel McCullough(11) T.C. Williams: 40.6
Miles Lanham (9) Annandale: 40.73
Jalen Lyons (11) Hayfield: 40.74
D'Marcel Boadu (11) Hayfield: 41.31
Girls 3,200 Meter Run
Grace Glade (10) T.C. Williams: 12:29.75
Dagny Cukor (9) West Potomac: 12:32.33
Katie Jane Glade (9) T.C. Williams: 12:34.73
Sasha Porter (11) Hayfield: 12:36.35
Lyndsay Rowlands (11) Hayfield: 12:37.89
Haley Rowlands (11) Hayfield: 12:37.99
Ellie Messina (12) West Potomac: 12:53.58
Kirin Mackey (11) T.C. Williams: 12:59.65
Grace LaFleur (11) West Potomac: 13:13.12
Boys 3,200 Meter Run
Mikyas Sahlu (12) Annandale: 10:14.05
Zachary Lydon (11) West Potomac: 10:18.58
Abel Mehari (10) Annandale: 10:23.78
Miles Snowdon (11) Hayfield: 10:29.42
Bennett Stenberg (11) Annandale: 10:36.61
Eyasu Belaye (11) T.C. Williams: 10:43.25
Cameron Riccio (10) T.C. Williams: 10:43.76
Owen Sample (10) T.C. Williams: 10:46.38
Efeson Tesfay (11) West Potomac: 10:46.67
Gavin Brown (9) West Potomac: 11:19.87
Matthew Wier (12) Hayfield: 11:25.10
Jaden Webb (11) Mount Vernon: 11:25.28
Aidan Howell (11) Hayfield: 11:38.05
Girls 4×400 Meter Relay
West Potomac: 4:22.2
T.C. Williams: 4:25.55
Hayfield: 4:28.9
Mount Vernon: 4:45.52
Annandale: 4:59.56
Boys 4×400 Meter Relay
West Potomac: 3:34.47
T.C. WIilliams: 3:37.72
Hayfield: 3:50.09
Annandale: 3:51.17
Mount Vernon: 3:56.65