West Potomac's Houston earns 200th career win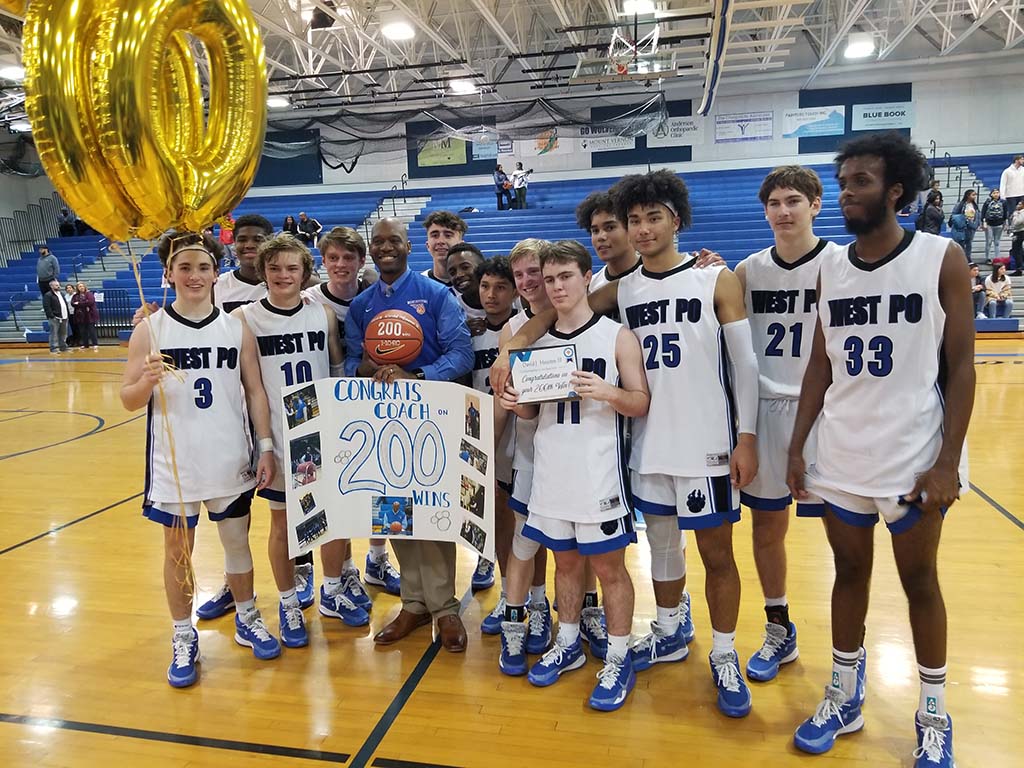 The gold balloons, celebratory poster, and signed basketball suggested this was no run-of-the-mill victory for West Potomac's David Houston III.
Postgame comments from a pair of Wolverine seniors suggested Houston is no run-of-the-mill head coach.
The West Potomac boys' basketball team pounded rival Mount Vernon 67-32 Friday night at home. The Wolverines bullied the Majors in the paint, outrebounding them 41-18, and lit it up from the perimeter with eight 3-pointers.
For West Potomac, it was a blowout victory over its Route 1 rival and a 1-0 start in the Gunston District.
For Houston, it was win No. 200 in his 16-year West Potomac career.
When the game was over, Houston was presented with several commemorative items, including a trio of gold balloons that created the number "200."
"A lot of people don't stay in one place for a long time," Houston said. "There's not a lot of us in this area that have been at one school their entire career. To be able to see this many wins through with this many players, I feel like I've impacted that many lives. It's powerful, overwhelming."
A pleasantly surprised Houston said he was "shocked" at the postgame recognition. When asked how being acknowledged for his career achievement made him feel, Houston said "respected" and "proud."
He wasn't the only one that felt that way.
"He always has our back and he's always there for us," West Potomac senior forward Adrien Hunter said about Houston. "I'm really proud of him and what he's been able to do."
Wolverines guard Ethan Payne spoke of Houston's ability to motivate.
"He's my kind of coach," the sharpshooting senior guard said. "He's always trying to push us to be the best we can, trying to give us another challenge to reach for and that's really been a big contributor in my development."
Prior to Friday's contest, Houston was recognized for recently becoming West Potomac's all-time winningest coach. Houston passed Bill Engels, who coached at the school from 1985 — when it opened — until 1999.
Once the game tipped off, the Wolverines had to take care of business to ensure there would be a 200-themed postgame celebration – and they quickly went to work.
West Potomac opened the game on a 15-2 run and never looked back. The Wolverines led 38-18 at halftime and by as many as 37 in the second half.
Payne knocked down five 3-pointers and led all scorers with 18 points. He made three from behind the arc in the opening quarter as the Wolverines took a commanding lead.
"He can shoot it," Houston said. "If he's open, he can shoot it. He practices, he works hard. He's in the gym first, he's the last one out. I've got no problem with him taking shots."
While Payne inflicted damage from the perimeter, Hunter wreaked havoc in the paint. He finished with 13 points and eight rebounds, and made his presence known on the offensive glass.
The 6-foot-3 Hunter is playing varsity basketball for the first time after sitting out his junior season for what he said were personal reasons. He recently played his way into the starting lineup.
"I'm so proud of him," Houston said. "He's worked hard. He didn't play last year. He wasn't starting and wasn't playing a lot at the beginning of the year and now he's in the starting lineup and I thought he really asserted himself as a force down low."
After attending Annandale as a freshman, Hunter transferred to West Potomac, where he played JV basketball as a sophomore. Hunter said he missed basketball after not playing last season.
"Seeing these guys play last year, I saw things I wanted to be a part of," Hunter said. "Coming back and playing, I dreamt of it. … Something I wanted to do was play varsity basketball in high school and I'm glad I got to do that."
Hunter's paint presence is a welcomed addition for a West Potomac team that doesn't have a lot of size.
"He's gotten a lot more confident," Payne said. "He's playing a lot stronger, playing a lot tougher."
Senior forward Jack Fricka scored 13 points and grabbed seven rebounds for West Potomac. Junior forward Leon Cooper finished with two points and six rebounds, and sophomore guard Jackson Mayo tallied six points with a pair of 3-pointers.
Senior guard Bradley Harden totaled four points and eight assists. In West Potomac's previous game, a victory over Colonial Forge, Harden tied the team record for assists in a game with 10.
The victory improved West Potomac's record to 7-4.
Next up for the Wolverines is another district home game, this one against T.C. Williams at 7:30 p.m. on Tuesday.
Mount Vernon will host Yorktown at 7:30 p.m. on Thursday.
While West Potomac works toward improving its seeding in the district tournament, Houston will be working toward his next milestone.
"It's awesome to see him get his 200th win," Payne said. "That's great. It's a great feeling to help him get that."
West Potomac girls edge Mount Vernon
Struggling offensively and its seven-game win streak hanging in the balance against a resilient Mount Vernon team, West Potomac girls' basketball head coach Brian Colligan dialed up an old school play in hopes of generating some points.
The ball ended up in the hands of a freshman — and the Wolverines ended up in the win column.
Leading by two with a little more than one minute remaining, freshman guard Mary Prater cut backdoor, sophomore forward Sam Uhrin delivered an accurate pass and Prater finished with her left hand, helping the Wolverines secure a 36-31 victory at West Potomac High School.
Uhrin passed the ball over a pair of Mount Vernon defenders and hit Prater in stride.
"A lot of times, that's a bounce pass," Colligan said. "… She threw it over the girl's head as she turned her head. It was a great look at that time."
Prater finished with nine points, including seven in the fourth quarter. Her transition bucket and 3-pointer gave West Potomac a 30-20 lead with less than 6 minutes remaining in the contest.
"We trust her," Colligan said about Prater. "She's going to be a special player here. She's still a freshman learning, but we still trust her and count on her to participate and be a part of everything."
The victory improved the Wolverines' record to 10-3, including 1-0 in the Gunston District, and extended their winning streak to eight games.
West Potomac managed just 13 points in the first half and led by two at halftime. The Wolverines led by four at the end of the third quarter extended their advantage to 11 midway through the fourth. The Majors wouldn't go away, however, responding with a 9-0 run before Prater's bucked helped secure a West Potomac victory.
"We played last night," Colligan said about West Potomac's struggles, "but, honestly, Mount Vernon just played really, really well. Take your hats off to them. We were just talking to our girls about it. They outworked us. They wanted it more than we did. We were fortunate to execute a couple plays.
"We couldn't hit free throws, we couldn't do a lot of things we normally do. I'm not going to attribute that to anything other than those kids were playing their hearts out over there."
Junior guard Danea Mackey also scored nine points for West Potomac, including eight in the second half. Her buzzer-beating jump shot at the end of the third quarter gave the Wolverines a 24-20 lead.
"She's somebody who can get a bucket for herself when she needs one," Colligan said. "Having her on the floor is definitely kind an extension of me coaching out there."
Senior forward Tyler Mackie scored seven points for West Potomac.
Sophomore guard Isabela Gonzales led Mount Vernon in scoring.
Mount Vernon will host Riverside at 7:30 p.m. on Monday and will travel to take on Oakton at 7:30 p.m. on Tuesday.
West Potomac will travel to face T.C. Williams at 7:30 p.m. on Tuesday.
"We've just been playing well together and running as much as we can," Prater said, "because that is what we do the best."
Jon Roetman is a freelance writer who started covering high school sports in Northern Virginia in 2009. You can reach him at jonwroetman@gmail.com.