West Potomac, Dessaure outmuscle Hayfield to stay unbeaten in Gunston District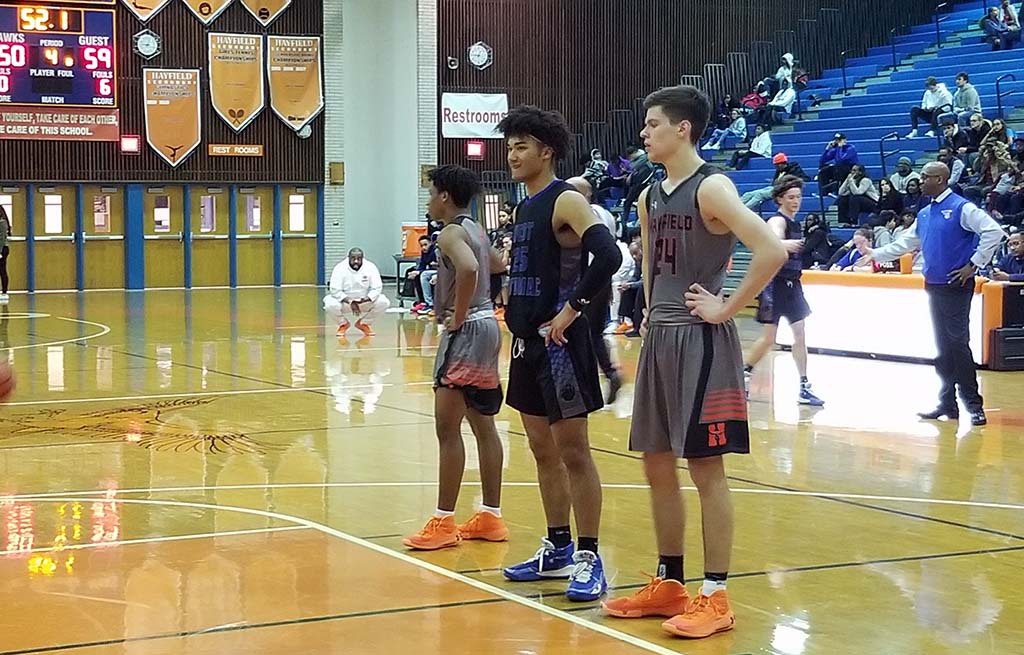 Fresh off a career-best performance, West Potomac forward Colby Dessaure was asked about a 3-pointer he had banked in – most likely unintentionally – during the second quarter of Tuesday night's Gunston District contest at Hayfield.
"I called bank," Dessaure told a reporter after the game.
Head coach David Houston III chimed in on the topic.
"You better say you called it loud," Houston said. "That was an awful shot."
"Hey, coach," Dessaure responded, "can you leave?"
While Dessaure found himself on the receiving end of a good-natured hard time, it was the West Potomac senior captain who had spent the previous two hours making life difficult for the Hayfield boys' basketball team.
Dessaure scored a career-high 22 points and the Wolverines improved to 4-0 in the district with a 64-56 victory over the Hawks at Hayfield Secondary School.
The score was tied at 39 entering the fourth, but West Potomac took control with a 15-2 run, capped by an Ethan Payne 3-pointer that gave the Wolverines a 54-41 advantage midway through the quarter. Dessaure scored eight points during the run and spent most of the evening making his presence felt around the paint.
"I thought he just showed he was a little bit stronger than the guys that they had trying to guard him," Houston said, "so that was helpful for us."
Dessaure scored 12 points in the first half. His banked-in 3-pointer gave West Potomac a 24-23 lead entering halftime.
Dessaure is in his third season on the West Potomac varsity.
"He's come a long way in a couple years," Houston said. "… I'm definitely pleased with his progression."
Dessaure said he feels much different at this point in his high school career.
"Sophomore year, junior year was a whole different story," he said. "I feel like I'm a dominator now."
Houston said one factor that has helped Dessaure is the addition of senior forward Adrien Hunter to the starting lineup. The coach said Hunter helps keep double teams away from Dessaure and other Wolverine post players.
West Potomac (11-4, 4-0) has won six straight games since Hunter joined the starting lineup.
On Tuesday, Hunter, who did not play basketball last season, finished with 12 points. His putback with 3:43 remaining gave the Wolverines a 56-44 advantage.
"He made the team on Day 2 of tryouts," Houston said. "He definitely wasn't a lock to be on our team. On Day 2 of tryouts, I thought he played amazing. … He played pretty well down in Charlottesville (during a holiday tournament). It wasn't a specific game – it was just his overall tournament in Charlottesville – that we felt like he could handle that for us."
West Potomac starting guard and senior captain Bradley Harden praised the Wolverine post players – with a little humor involved.
"[Dessaure] was huge," Harden said. "Our bigs, both him and Adrien, are killing down low. That is definitely going to be a problem (for opponents) in this conference. I know that is something [Dessaure] has been doing all year long, and it's about time he started finishing a couple more layups, but it's good for him to get his career-high."
Sophomore guard Jackson Mayo scored nine points for West Potomac. Payne finished with eight points, including a pair of 3-pointers, and Harden added five.
While West Potomac increased its lead atop the Gunston District standings, Hayfield fell to 5-11 overall and 1-2 in the district.
Sophomore guard Braylon Wheeler led the Hawks with 20 points. Senior guard Michael Lee scored 13 points and freshman forward David King added 12.
"When we started turning the ball over, the wheels start falling off on our end and then we stopped trusting each other defensively and offensively," Hayfield head coach Carlos Poindexter said. "Everything broke down for us and stayed good for them."
Poindexter said "turnovers and toughness" were the biggest differences Tuesday.
"For me, [the Wolverines] were being more physical than us," the Hayfield coach said. "We didn't do a good job of adapting."
While Hayfield had three players score in double figures, the Hawks' leading scorer, 6-foot-7 senior Daniel Peterson – who entered Tuesday averaging 15 per contest – was held to four points and just one field goal.
Poindexter said Peterson didn't get the ball enough.
"In the second half, we specifically said let's get Dan more touches," Poindexter said, "and it just didn't happen."
Houston said the Wolverines were focused on stopping Peterson.
"Our team focus was definitely to not let [Peterson] get going," Houston said. "… Our guys have been locked in defensively all year. Teams have not been scoring a lot of points against us. He was for sure the No. 1 guy on our board."
West Potomac will travel to face Westfield at 7:30 p.m. tonight.
Hayfield will travel to take on Mount Vernon at 7:30 p.m. on Friday.
"As far as our conference is concerned, West Po, they are leading, 4-0, but we're right there," Poindexter said. "We can compete with all these guys. We just have to figure out a way to not beat ourselves."
Jon Roetman is a freelance writer who started covering high school sports in Northern Virginia in 2009. You can reach him at jonwroetman@gmail.com.