Lagana confirmed as new Lee District Planning Commissioner
For the first time since 2010, Lee District will have a new representative on the Fairfax County Planning Commission.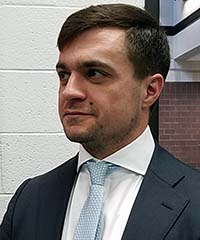 Dan Lagana, a Groveton area resident, was selected by new Lee District Supervisor Rodney Lusk to take over the position. The Board of Supervisors confirmed Lagana, along with a host of other appointees to county commissions and boards, during its meeting on Tuesday.
Lagana, 35, works as a senior analyst for Rios Partners, a management consulting firm. He is the former communications director for the Southeast Fairfax Development Corporation, a position he held from January 2016 to January 2019.
Lagana replaces James Migliaccio, whose term ended in December. Migliaccio had served on the Planning Commission since being appointed by then-Lee District Supervisor Jeff McKay in 2010. During his tenure as commissioner Migliaccio worked on high-profile projects such as Embark Richmond Highway, the new Springfield Town Center and the Wegmans project.
Lagana has been active in local Democratic Party politics for a number of years, and served as chair of the Fairfax County Democratic Committee during 2019. Lagana also hails from the Richmond Highway area, graduating from West Potomac High School in 2002. He served in the Army for seven years before earning a degree in political science from Columbia University.
The 12-member Planning Commission is getting three other new faces, with Candice Bennett taking over an at-large seat and Andres Jimenez taking another. In Sully District, Evelyn Spain is taking the place of Donté Tanner.
Mary Cortina, who had served as an at-large commissioner, is now the Braddock District representative on the commission, taking over for Ellen Hurley. Longtime at-large member and recent Vice Chairman James Hart will not be returning to the Planning Commission, but will continue his role on the Board of Zoning Appeals.
All planning commissioners serve four-year terms.
Other Lee District and Mount Vernon District appointments and re-appointments made during Tuesday's Board of Supervisors meeting:
Cynthia Jacobs Carter was reappointed by Lusk to a three-year term as Lee District representative to the Fairfax County Park Authority Board.
Larysa Kautz was appointed by Lusk to a three-year term as Lee District representative to the Fairfax-Falls Church Community Services Board
Lisa Sales was reappointed by Mount Vernon Supervisor Dan Storck to a three-year term as the Mount Vernon representative on the Commission for Women
Richard A. Kostro was reappointed to a three-year term as the Mount Vernon representative on the Information Technology Advisory Committee
Phyllis Walker Ford was reappointed by Lusk to a three-year term as an at-large representative on the Fairfax County History Commission
Deborah Klein Hammer was reappointed to a three-year by Storck as the Mount Vernon representative on the Fairfax Area Disability Services Board
Johna Gagnon was reappointed by Lusk to another three-year term as the Lee District representative on the Environmental Quality Advisory Council