Edison girls pass early test, remain unbeaten in district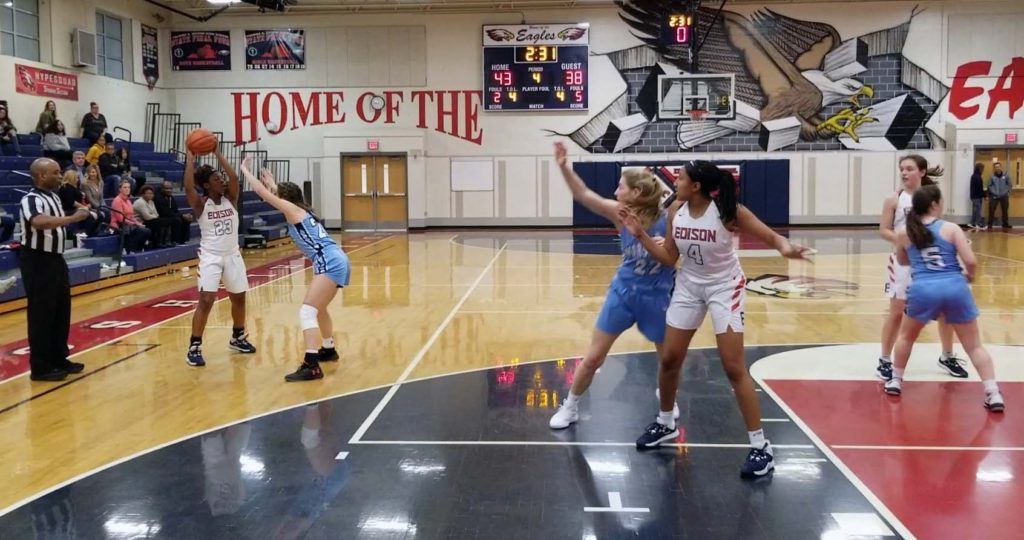 Several members of the Edison girls' basketball team felt under the weather entering Friday's contest against Marshall — head coach Dianne Lewis mentioned colds and allergies as reasons some Eagles were at less than 100 percent.
Senior captain Bri Johns' ailment was passed along by a teammate, but it wasn't the flu or some other pesky illness.
"It was a little miscommunication," fellow senior captain Aurea Gingras said.
Two days earlier, a teammate accidentally hit Johns in the head with a basketball.
"My head's hurting a lot," Johns said. "It's been hurting for a couple days, but it's all good. … We were in warmups [for] one of our games and we were running a drill called 'Viking.' … I had a ball in my hand and one of my teammates accidentally threw it at my face."
On Friday night, Johns shook off any lingering discomfort to help energize the Eagles.
With Edison trailing 35-34 in the closing seconds of the third quarter, Johns stole the ball from a Marshall player near midcourt, dribbled toward the basket and beat the buzzer with a layup. Rather than facing a deficit entering the fourth quarter, the Eagles now held a lead they would not relinquish on their way to a 47-40 home victory over the Statesmen.
Johns finished with 10 points.
"That was just what we needed to just kind of lift us and pump us up," Lewis said. "And our team knew that [Johns] was doing this and not feeling well. They wanted to reward her, as well."
Tough schedule, high expectations
The victory improved Edison's record to 10-4 during what has been a challenging first half of the season. The Eagles have lost to Chantilly, and teams from Delaware, Pennsylvania and Illinois. Edison will also face defending Virginia Class 4 state champion Lake Taylor in the near future.
The Eagles do, however, sit atop the National District standings at 5-0.
"We've probably had one of our toughest preseason schedules that we've had in a long time," Lewis said. "We've definitely been battle-tested and we need to be because of teams like Marshall, who is very good, and what we're going to see after we get out of conference play."
This is all part of the process for an Edison program that has advanced to the state semifinals or further eight times under Lewis, who is in her 19th season as head coach of the Eagles, including each of the last six years.
But despite Edison's success under Lewis, which includes 11 district championships and eight region titles, the Eagles have been unable to win the big one. The last two years, Edison has finished Class 5 runner-up to a Princess Anne program that was won six consecutive state championships.
Give them the credit that they deserve for the other things that they've won. There are a lot of numbers up on those banners and they deserve the credit for that.

— Edison Coach Dianne Lewis
When asked to confirm if Edison has made six straight trips to the state final four, Lewis said she would have to check because she can't remember all the time. But when asked what year the program last won a state title, she had no trouble answering — 1978.
"It only bugs me when our girls have won the conference and won the region and then everybody just remembers that they came [up] short in states," Lewis said. "Give them the credit that they deserve for the other things that they've won. There are a lot of numbers up on those banners and they deserve the credit for that. We can't be defined by just coming short. There are some good teams in the state."
No shortage of senior leadership
If this is the year Edison is going to bring home its first state title in more than four decades, it will be a trio of seniors that leads the way.
Johns, Gingras and Charlotte Jewell are each averaging double figures in points and play a pivotal leadership role.
Johns is a four-year varsity athlete who will play college basketball at Southeast Missouri State University. She entered Friday's game against Marshall averaging a team-high 15.6 points per contest. She led the Eagles with 19 points in last year's state final.
"I'm just so proud of her development because every year you can see her getting better and better," Lewis said. "This year, she's a captain and she's leading us.
"… She's the one that is in practice that is saying, 'Come on, guys, let's get going.' Her and Aurea are the most vocal captains we have. They're the ones that are holding everyone accountable."
Senior point guard Gingras will play for George Washington University. She entered Friday averaging 13.8 points and led the Eagles with 15 against Marshall.
Gingras, who is in her second season on the Edison varsity after transferring from Paul VI, also showed off her passing skills with multiple assists.
"She's so valuable to our program," Lewis said. "… She's vocal, she's leading, she can score when we need her to score. Her basketball IQ is really high, so she understands when to slow it down, what offenses will fit what person. Her basketball IQ has been invaluable."
Jewell, a guard, has been on the Edison varsity for four years and will play college basketball at Brown University. She entered Friday averaging 11 points per game. She finished with nine points against the Statesmen, including the Eagles' lone 3-pointer.
"I've loved Charlotte from Day 1," Lewis said. "She's another four-year varsity player who will do any and everything."
Edison senior guard Kaitlyn Lee finished with seven points against Marshall and junior forward Celeste Castma added six.
"I love this group because everybody brings something different to the table," Lewis said. "We have no cookie-cutter players on this team at all. … Everybody has something different to make that puzzle come together."
While Edison's primary goals are postseason-focused, Lewis doesn't seem worried about having to motivate her players during the regular season.
"I think they understand what is expected," she said. "They know that's our culture now, at this point, so we're going to just try to keep that culture and that level of play where it's always been. We have a lot of former players that come back and they talk to them about that. They say this is Edison basketball. When you're wearing 'Edison' across your chest, you have to be proud of that and you have to play for that name. It's not for you, individually, it's for that name."
Gingras said past success can make the current path more difficult to navigate.
"We always talk about having a target on our backs because there are so many numbers on that banner – everyone wants to beat us and everyone is going to give us their best game," Gingras said. "We have to show why we have those numbers and whey we're going to be back there."
Edison will travel to face Falls Church at 7:30 p.m. on Friday, Jan. 24.
Well after Friday's game against Marshall had ended, Gingras returned to the Edison High School gym, apologized to the janitor sweeping the floor and started to shoot free throws.
When asked about the reasoning behind the extra foul shots, Gingras said she was "just going to shoot until it feels good."
The Eagles hope to be feeling good at the end of the season with a state title.
"That's definitely our ultimate goal," Gingras said. "We, especially as seniors and as captains on this team, that's what we want for our coach and for the program. We really want to bring that home. It's definitely something we talk about – obviously, we take the season one game at a time – but we always have that in the back of our minds."
Jon Roetman is a freelance writer who started covering high school sports in Northern Virginia in 2009. You can reach him at jonwroetman@gmail.com.