Preview: With big names gone, West Potomac boys confident in new approach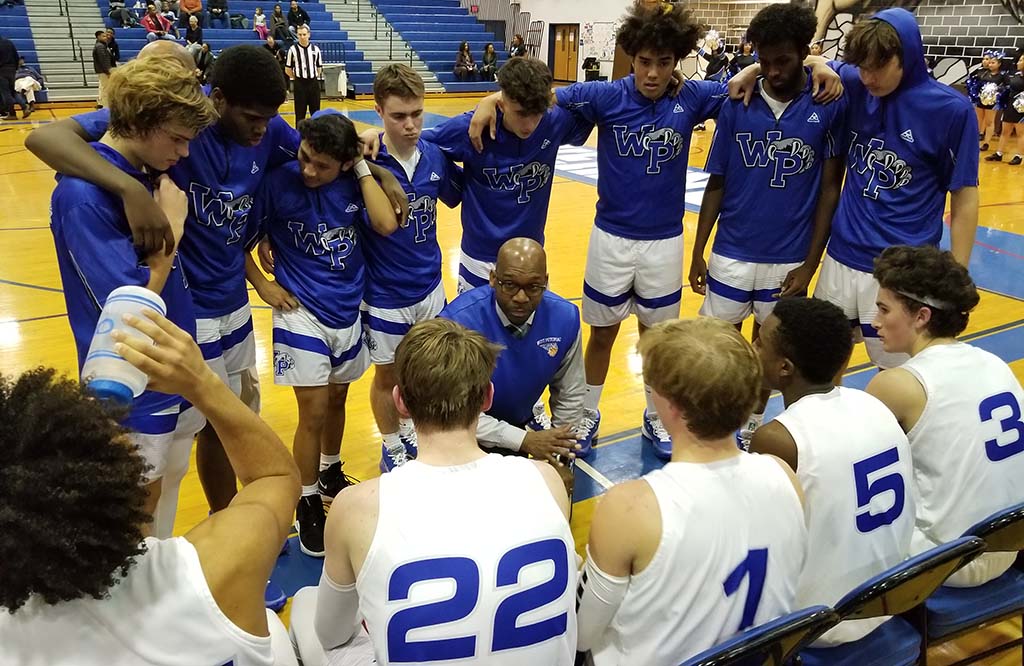 With the West Potomac boys' basketball program having graduated three "big studs," as head coach David Houston III described them, it would seem reasonable to question how the Wolverines would achieve success during the 2019-20 campaign.
Senior guard Ethan Payne described West Potomac's path to victory this way following Tuesday's home opener against Lake Braddock: "Using our speed rather than our size, kind of break teams down and go on little runs. One 3-pointer, second 3-pointer, third 3-pointer, and all of the sudden we're up 10 — kind of using those little runs to gain momentum and put teams away."
Unfortunately for the Bruins, Payne and the Wolverines didn't stop at just three from behind the arc.
Payne knocked down six 3-pointers on his way to a game-high 20 points and West Potomac knocked off defending 6A state runner-up Lake Braddock 78-61 in one of just six scheduled regular season home games for the Wolverines.
West Potomac made nine total 3-pointers, including a pair by sophomore guard Jackson Mayo, and improved to 2-0 on the season. West Potomac made 13 from long range during an 89-40 win over Lee on Dec. 6.
The Wolverines are coming off a 2018-19 season during which they captured the Gunston District championship and won 21 games before falling to South County in the region semifinals. Gone from that team are the program's all-time leading scorer, Daryl Mackey, Jr. (Woodstock Academy), 7-footer Jonas Munson (Central Arkansas), and 6-foot-6 forward Shannon Harrigan (Northern Virginia Community College).
What remains is an experienced (nine seniors) and intelligent (five National Honor Society members) group that lacks size (three starters listed at 5-10 or shorter) but can shoot and dribble.
The Wolverines don't look particularly formidable on paper – and that's fine with them.
"Inside this building, we know what we have," senior captain Jack Fricka said. "We can't speak for what other people think about us, but we all know what we have. We think we're a really good team, we can compete with anyone. We're not really scared to play anyone. Inside this building, we know what we have. We can't really control what the press, I guess, is saying about us."
After two games: so far, so good.
"Our bigs are more like 6-3, 6-4, but they can play," said Houston, who is in his 16th season as West Potomac head coach. "… Our littles can dribble and they can shoot. Really, it's going to come down to, we're going to not likely be bigger than most teams we play, but they're going to have to decide: are they hurting us inside enough to make us go big or are we hurting them with our outside game to make them go small."
Payne, listed at 5-8, is averaging 17 points and five 3-pointers through two games. He is in his third season on the West Potomac varsity and sounded like he is enjoying his expanded role.
"I've never been 'the guy' on the team before, always playing behind Daryl," Payne said. "It's a little liberating, and a little confidence boost to almost get that spot, allowing me to play a little more free and do my thing."
Mayo (5-9) came off the bench and knocked down a pair of 3-pointers, finishing with six points. He scored 12 points and made three from behind the arc against Lee.
Senior captain Bradley Harden (5-10) finished with nine points for West Potomac on Tuesday after opening the season with a team-high 15 points and three 3-pointers against Lee.
Fellow senior guard Deandre Doherty (5-8) scored eight against the Bruins, including a three-point play early in the fourth quarter that gave the Wolverines a 61-49 advantage.
Senior guard Xavier Hernandez (5-7) made a 3-pointer against Lake Braddock.
Leading the way in the paint for West Potomac on Tuesday were Fricka (6-3) and fellow senior captain Colby Dessaure (6-4), each finishing with 10 points. Dessaure scored 14 in the opener against Lee.
West Potomac sophomore Aiden Barr (6-5) and senior Adrien Hunter (6-3) each scored four points against Lake Braddock, and junior Leon Cooper (6-4) added two.
"If you look at our team, I don't think there's any one guy that's going to go out and get 30 like Daryl could last year," Fricka said. "It was just a big team effort."
West Potomac scored the first nine points of Tuesday's contest and led 14-2 after a bucket by Doherty, but Lake Braddock responded with a 12-0 run to tie the score at 14. Fricka answered with a bucket to give West Potomac a 16-14 advantage and the Wolverines held the lead for the remainder of the game.
West Potomac led 39-32 at halftime and by as many as 19 in the second half.
Next up for West Potomac is a road game against South County at 7:30 p.m. on Friday.
"South County's got as big and strong and fast athletes as there are out here," Houston said. "We're going to have to match up with them. I like my guys. We play hard and they play with passion."
Only time will tell if passion, experience and 3-point sharpshooting will consistently translate to victories for West Potomac.
"We're just trying to make sure we have that chip on our shoulder and make sure teams don't overlook us, even though we know it's going to happen," Payne said. "But we'll show them what's up."
Jon Roetman is a freelance writer who started covering high school sports in Northern Virginia in 2009. You can reach him at jonwroetman@gmail.com.