Mount Vernon's Rucker, Reid among 1st Team All-Region football picks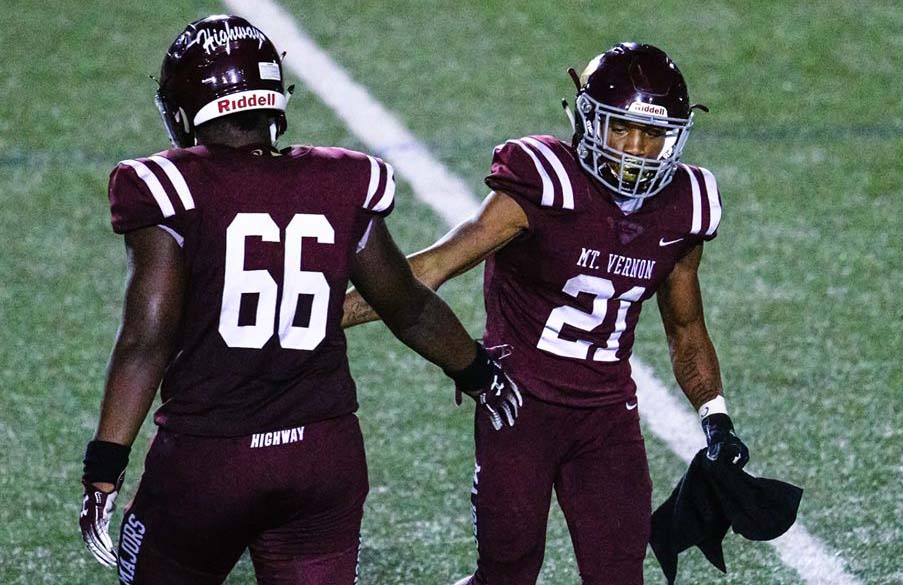 ---
Mount Vernon's best football season in decades brought 1st-Team All-Occoquan Region accolades for five different players, the second most for any region school after Division 6A state champion South County.
Senior lineman Elijah Rucker made all-region on both sides of the ball, while fellow senior Jordyn Reid made the 1st team as a running back and as a punt returner. Senior place kicker Sam Renzi was also 1st-team selection, as was junior linebacker Robert Overby and senior defensive back Samuel Boateng.
Overby was also the runner-up defensive player of the year in the region, while Mount Vernon coach Monty Fritts was the runner-up coach of the year. Four Majors were also 2nd team all-region picks.
West Potomac senior wide receiver DeAndre Dougherty was a 1st team selection, while four of his Wolverine teammates were 2nd-team all-region picks.
Three players from Edison and one from Hayfield were also on the 2nd team squad.
The full All-Occoquan football selections:
First Team Offense

Name

School
Year
Position
Matt Dzierski
South County
Senior
Quarterback
Luke Wilson
T.C. Williams
Senior
Center
Jarrod Baier
South County
Senior
O. Lineman
Tristan Leigh
Robinson
Junior
O. Lineman
Robert Merriman
Lake Braddock
Senior
O. Lineman
Elijah Rucker
Mount Vernon
Senior
O. Lineman
Joe Murray
Lake Braddock
Senior
Running Back
Jordyn Reid
Mount Vernon
Senior
Running Back
Brooks Stephenson
West Springfield
Senior
Running Back
Brock Spalding
South County
Sophomore
Receiver
Ethan Davies
West Springfield
Junior
Receiver
De'Andre Doherty
West Potomac
Senior
Receiver
Matt Hibner
Lake Braddock
Senior
Tight End
Sam Renzi
Mount Vernon
Senior
Kicker
Devin Matthews
Justice
Senior
Kick Returner
Tony Muskett
West Springfield
Senior
O. All-Purpose

Coach of the Year:

Gerry Pannoni, South County

Offensive Player of the Year:

Matt Dzierski, South County
First Team Defense
Player
School
Year
Position
Dayshawn Coleman
South County
Senior
D. Lineman
Zion Dayne
South County
Senior
D. Lineman
Elijah Rucker
Mount Vernon
Senior
D. Lineman
Matt Hibner
Lake Braddock
Senior
Defensive End
Haris Khan
South County
Senior
Defensive End
Nico Asmar
South County
Senior
Linebacker
Akibu Koroma
South County
Senior
Linebacker
Robert Overbey
Mount Vernon
Junior
Linebacker
A.J. Reid
Falls Church
Senior
Linebacker
Robert Longerbeam
T.C. Williams
Senior
Defensive Back
Sammy Boateng
Mount Vernon
Senior
Defensive Back
Sam Dankah
South County
Junior
Defensive Back
Austin Rawlins
Lake Braddock
Senior
Defensive Back
Nick Veltsitas
Robinson
Junior
Punter
Jordyn Reid
Mount Vernon
Senior
Punt Returner
Kyle Medlock
South County
Senior
Defensive All-Purpose

Defensive Player of the Year:

Haris Khan, South County
Second Team Offense
Player
School
Year
Position
Marco Cesaratto
Justice
Senior
Quarterback
JT Mayo
West Potomac
Senior
Quarterback
Eric Einhorn
South County
Senior
Center
Ethan Jones
Justice
Senior
Center
AJ Baker
T.C. Williams
Junior
Offensive Lineman
Nour Chirchi
Edison
Senior
Offensive Lineman
Josh Gylamfi
West Potomac
Junior
Offensive Lineman
Spencer Herzog
West Springfield
Senior
Offensive Lineman
Glory Nseka
Annandale
Junior
Offensive Lineman
Anthony Eaton
T.C. Williams
Senior
Running Back
Devin Matthews
Justice
Senior
Running Back
Dylan Weaver
Annandale
Senior
Running Back
Salam Lawal
Robinson
Senior
Running Back
Russian Williams
Robinson
Senior
Running Back
Kyle Clark
Mount Vernon
Senior
Receiver
Max James
Lake Braddock
Junior
Receiver
Noah Jeffries
Justice
Senior
Receiver
Tre'ante Rodgers
T.C. Williams
Junior
Receiver
Chase Shelton
Edison
Junior
Receiver
Sam Carpenter
Edison
Junior
Tight End
Justin Scott
Annandale
Junior
Tight End
Austin Rawlins
Lake Braddock
Senior
Place Kicker
Robert Laatour
Annandale
Junior
Kick Returner
Joshawn Lewis
South County
Senior
Kick Returner
Robert Longerbeam
T.C. Williams
Senior
O All Purpose Player
Second Team Defense
Player
School
Year
Position
Adam Hunter
T.C. Williams
Junior
Defensive End
Anthony Mejia
Mount Vernon
Senior
Defensive End
Nate Joy
West Potomac
Junior
Def Lineman
Zach Kongolo
Lake Braddock
Senior
Def Lineman
Michee Nseka
Annandale
Senior
Def Lineman
Danny Ramos
Falls Church
Senior
Def Lineman
Bradley Chei
Mount Vernon
Junior
Linebacker
Bennett Cooke
Justice
Senior
Linebacker
Dylan Koerner
Fairfax
Senior
Linebacker
BJ Lee
T.C. Williams
Senior
Linebacker
Jake Radoski
West Potomac
Senior
Linebacker
Mike Weidinger
Lake Braddock
Junior
Linebacker
Kyle Medlock
South County
Senior
Defensive Back
Ricardo Ross
T.C. Williams
Senior
Defensive Back
Alex Wayman
W.T. Woodson
Senior
Defensive Back
Braylon Wheeler
Hayfield
Sophomore
Defensive Back
Sam Renzi
Mount Vernon
Senior
Punter
JP Springer
Falls Church
Senior
Punter
Will Sydes
Lake Braddock
Senior
Punt Returner
Bradford Chei
Mount Vernon
Junior
D All Purpose Player
Jacob Perdue
W.T. Woodson
Junior
D All Purpose Player