Edison basketball players make D1 commitments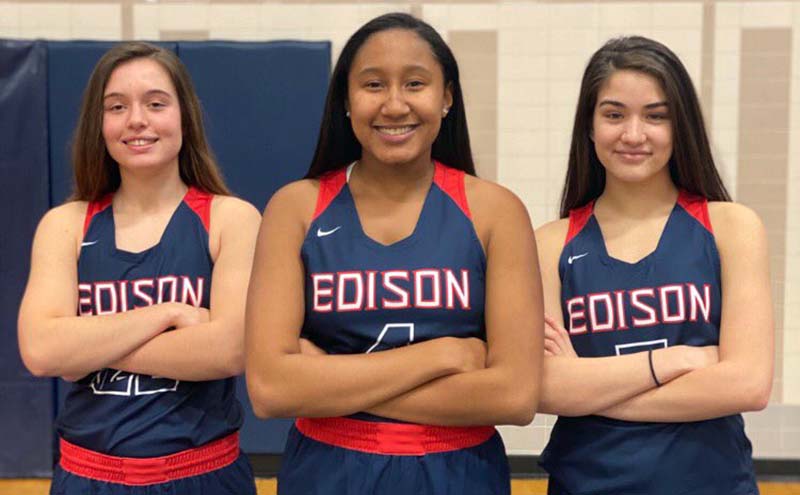 Last month three seniors on the Edison girls basketball team signed letters-of-intent to play Division I college basketball.
The three players lead a loaded Edison squad that will be looking to defend its National District and 5A North Region titles.
Point guard/shooting guard Aurea Gingras will play next year at George Washington University, a member of the Atlantic 10 conference. Gingras averaged 9 points, 4 assists and 3 steals per game as a junior.
"She came up big in huge spots, such as when she sparked a third quarter rally past Freedom-South Riding in the state semis," Northern Virginia high schools basketball chronicler NovaHoops.com said of Gingras last year. "[H]er defense and ball-handling ability often set the table for the Eagles."
Teammate Charlotte Jewell will be playing for Brown University in the Ivy League. Jewell is also a point guard/shooting guard, and she averaged 14 points, 5 assists and 3 steals last year.
"Jewell does a ton of things really well," NovaHoops.com said of Jewell last year. "She's a tough defender who is unafraid of any challenge. Jewell shoots the three well but is also good at attracting defenders to either pass the ball or draw contact."
Bri Johns, a wing/forward who averaged 10 points, 5 rebounds and 2 assists per game last season, is headed to Southeast Missouri State, a member of the Ohio Valley Conference.
Edison coach Dianne Lewis said she expects all three girls to put up higher numbers this season as they fill the void left by the graduation of last year's leading scorer, Carole Miller.
Miller, who is now playing in the ACC for the University of Virginia, led the Eagles to their second consecutive Virginia 5A runner-up finish last season.
Edison opens this season on Friday against Paul VI. Their full schedule can be found here.