Major milestone: Mount Vernon wins first district title since 1998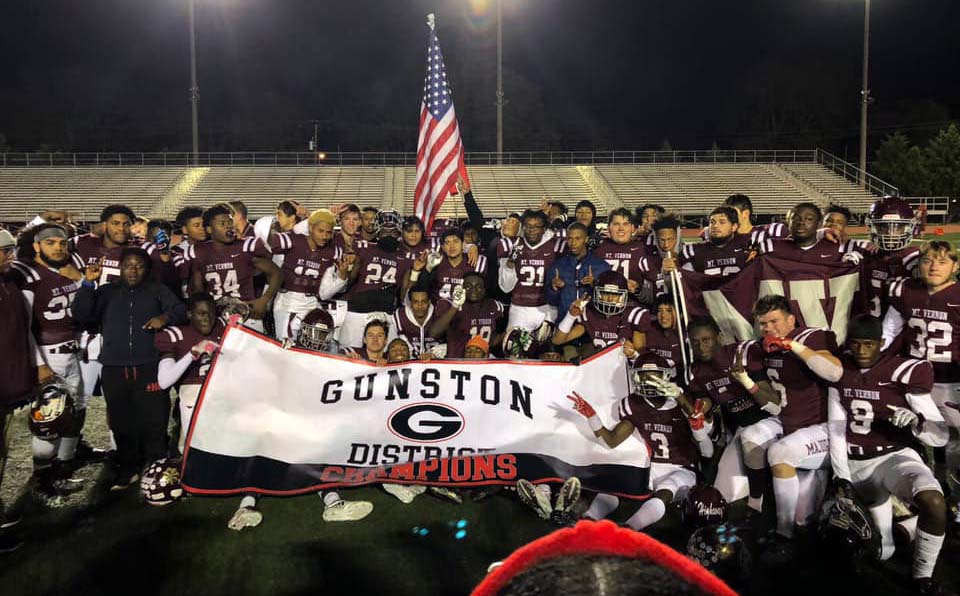 For the first time in 21 years, Mount Vernon's football team is district champions.
The Majors won a showdown for the Gunston District crown with T.C. Williams on Friday night, cruising to a 33-6 home victory over the Titans. The win improved Mount Vernon's record to 8-1 on the season, including a 3-0 district record.
T.C. Williams — also having their best season in years — dropped to 7-3 (3-1).
After the win, Mount Vernon players showered head coach Monty Fritts in Gatorade, chanted "High-wayyy, High-wayyy," and rejoiced as Mount Vernon principal Anthony Terrell presented Fritts and the team with the Gunston District title banner. The celebration was a long time in the making, the culmination of years of work to bring Mount Vernon football back to the heights the program had once been known for.
"It feels amazing," said senior kicker Samuel Renzi, a four-year starter who is committed to play for Morgan State next year. "That's something that Mount Vernon hasn't done for a long time … [it's] one of the best moments that I've had in high school, by far."
Fritts credited the Majors defense for keeping the Titans power running attack in check on Friday. The Majors D forced four turnovers and kept T.C. off the scoreboard until the 4th quarter.
"Our defense was very, very good," Fritts said. "Teams really just haven't been able to run the football on us this year."
That hasn't always been the case for the Majors in previous seasons. Fritts credited the experience of seniors like linemen Elijah Rucker and Anthony Mejia for instilling a new toughness — and lots of muscle — in the defense.
"We've been in the weight room and we're a lot stronger," Fritts said. "T.C. is big and strong. They just couldn't move us, and our kids are so fast that [their backs] just couldn't get into space. "
Mount Vernon's offense has been potent since Fritts arrived four years ago, and senior quarterback Fonnae Webb and senior slotback Jordyn Reid again led the way against T.C. Williams. Reid had four touchdowns and 238 combined yards rushing and receiving against the Titans.
A four-year player for Mount Vernon, Reid has been playing some of his best football in recent weeks, according to Fritts.
"We've been trying to load manage him," Fritts said of the 165-pound Reid, a physical runner who also sees time on defense. "He was by far the best player on the field Friday night."
New culture, new milestones
When Fritts was hired in 2016, Mount Vernon was coming off two seasons where the program combined for two wins. Mount Vernon had always had talent — multiple Majors have made Division I and Division II rosters in recent years — but consistency and victories proved hard to come by.
In just four seasons, Mount Vernon has changed the narrative around the program. The Majors ended long losing streaks against nearby rivals West Potomac, Hayfield and T.C. Williams. They're about to head to the Division 6 playoffs for the fourth straight year, and should they beat Annandale in the regular season finale on Friday, it'll mark the best regular season record since at least the late 1990s.
Renzi credited Fritts' "family" approach to changing the culture, saying that it has brought together players from various backgrounds and made the Majors into a team that believed they can beat anyone.
"We're just a huge family. If one person is feeling down and having a bad day, the other guys lift him up," Renzi said. "Coach Fritts changed [our] mentality freshman year. Everybody's just bought in."
As satisfying as this season's victories have been, Fritts said the Majors still have something to prove. Mount Vernon hasn't won a playoff game since his arrival, and he said that until that happens, the program will have naysayers.
"It's great that we've been really good in the regular season, but at the end of the day we're going to need to win some playoff games to prove who we really are," Fritts said.