McKay wins Chairman race, Dem candidates sweep school board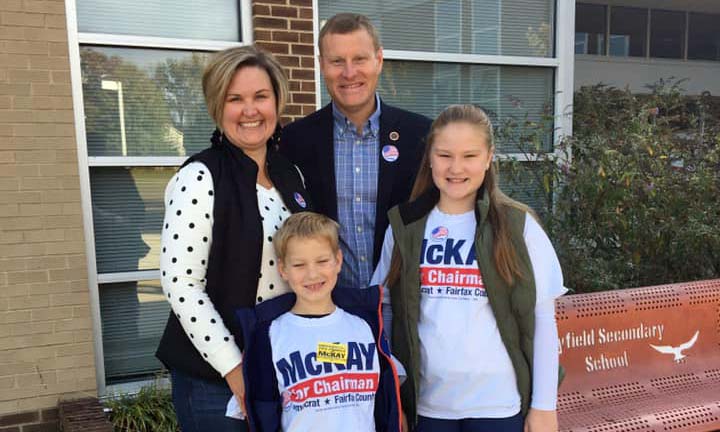 Lee District Supervisor Jeff McKay will be the next Chairman of the Fairfax County Board of Supervisors.
McKay handily defeated Republican challenger Joe Galdo on a night that saw the Democratic Party — or Democratic Party-endorsed candidates — take nearly every election in the county. The Democratic win was part of a statewide surge by the party, which won both the House of Delegates and the State Senate.
McKay, a Hayfield area resident who grew up in Woodlawn, has served as Lee District Supervisor since 2008. He won a four-way primary in June to earn his party's nomination, and now will replace retiring Chairman Sharon Bulova as head of the Board.
McKay's election marks the first time since the position was created in 1968 that a politician from the Richmond Highway area has been elected chairman.
On the Board of Supervisors, the only Republican to win was incumbent Springfield District Supervisor Pat Herrity. Herrity edged Linda Sperling by less than 1,000 votes.
Herrity had been one of only two GOP members on the current board, along with retiring Braddock District Supervisor John Cook. James Walkinshaw, a Democrat, won handily in the race to replace Cook.
The two Board of Supervisors races in the Richmond Highway area were short on drama. Mount Vernon District Supervisor Dan Storck, a Democratic incumbent, won re-election while running unopposed. Lee District Supervisor candidate Rodney Lusk, who won a four-way primary for the Democratic nomination in June, also won running unopposed.
Lusk's election bears historic significance as he will be the first African American man to serve on the Board of Supervisors.
Democratic-endorsed candidates swept the Fairfax County School Board races, shaking off an effort by Republican-backed candidates who ran on platform opposed to possible boundary changes, implementation of charter schools and opposition to social polices enacted by the school system. The school board, which had been 10-2 in favor of Democratic-endorsed members, will be 100 percent Democratic-endorsed members now.
In the Mount Vernon District, incumbent Karen Corbett Sanders held off challengers Steven Mosley and Pamela Ononiwu. Lee District school board Representative Tamara Derenak Kaufax won running unopposed.
"Thank you Mount Vernon for your support in my re-election," Corbett Sanders said in a Facebook post Tuesday night. "I am honored and committed to continuing to ensure we have access to opportunities in our public schools. I appreciate and congratulate my opponents on their well run campaigns and wish them both well."
At-large candidates Karen Keys-Gamarra, Abrar Omeish and Rachna Sizemore Heizer finished 1-2-3 in the six-candidate field. Keys-Gamarra was the only incumbent among the at-large candidates.
Omeish is the first Muslim woman elected to the school board — or any position in the state, according to a press release sent by her campaign. She's also believed to be the youngest person ever elected in the state.
"This campaign represents a local movement to set a new standard of public service — to provide accessible and inclusive leadership that elevates and empowers all people to participate," Omeish said in a statement. "Education is the starting point for all members of our community to access opportunity to meet their potential and we must fight to ensure that every child can succeed here."
In perhaps the bitterest race in the county, Democratic candidate Steve Descano held off Jonathan Fahey in the Commonwealth's Attorney race. Fahey, while running as an independent, had the support of local Republicans and conservative groups, as well as the police unions representing Fairfax County Police officers.
Fahey also had the support of incumbent Ray Morrogh, who lost the Democratic primary to Descano in June but chose to back Fahey.
"[W]e are bringing criminal justice reform to Fairfax County," Descano said in a Facebook post Tuesday night. "We aren't going to charge for marijuana possession. We aren't going to hold people in jail because they can't afford bail. We are going to root out systemic discrimination for people based on who they are, where they come from or the color of their skin."
In the House of Delegates, incumbent Paul Krizek easily defeated Republican challenger Richard Hayden in the 44th District. Krizek, a Democrat, had not been opposed in his previous two elections in a district that has been solidly blue for years.
First-term Del. Kathy Tran held off Republican challenger Steve Andraga to earn re-election in the 42nd District, while Del. Mark Sickles won an easy re-election against Independent Gail Parker. Sickles has held the seat since 2004.
Unofficial election totals, per the Virginia Department of Elections:
Chairman, Fairfax County Board of Supervisors
| | |
| --- | --- |
| Jeff McKay (D) | Joe Galdo (R) |
| 194,826 (66.45%) | 97,374 (33.21%) |
Commonwealth's Attorney
| | |
| --- | --- |
| Steve Descano (D) | Jonathan Fahey (R) |
| 180,861 (61.34%) | 113,139 (38.37%) |
Fairfax County Sheriff
| | |
| --- | --- |
| Stacey Kincaid (D) | Christopher F. DeCarlo (I) |
| 218,391 (78.32%) | 57,272 (20.54%) |
Mount Vernon District Supervisor
| | |
| --- | --- |
| Dan Storck (D) | Write-in |
| 26,107 (94.22%) | 1,603 (5.78%) |
Lee District Supervisor
| | |
| --- | --- |
| Rodney Lusk (D) | Write-in |
| 22,721 (95.55%) | 1,058 (4.45%) |
Fairfax County School Board, Mount Vernon District
| | | |
| --- | --- | --- |
| Karen Corbett Sanders | Steven Mosley | Pamela Ononiwu |
| 19,181 (62.14%) | 9,611 (31.14%) | 1,960 (6.35%) |
Fairfax County School Board, Lee District
| | |
| --- | --- |
| Tamara Derenak Kaufax | Write-in |
| 22,448 (95.70%) | 1,008 (4.30%) |
Fairfax County School Board, At-Large
| | | |
| --- | --- | --- |
| Karen Keys-Gamarra | Abrar Omeish | Rachna Sizemore Heizer |
| 178,336 (22.16%) | 161,097 (20.01%) | 155,152 (19.27%) |
| Cheryl Buford | Priscilla DeStefano | Vinson Xavier Palathingal |
| 111,542 (13.86%) | 109,463 (13.60%) | 86,780 (10.78%) |
State Senate, 31st District
| | |
| --- | --- |
| Adam Ebbin (D) | Write-in |
| 13,435 (90.37%) | 2,232 (13.02%) |
State Senate, 36th District
| | |
| --- | --- |
| Scott Surovell (D) | Write-in |
| 14,626 (93.13%) | 1,079 (6.87%) |
State Delegate, 44th District
| | |
| --- | --- |
| Paul Krizek (D) | Richard Hayden (R) |
| 13,713 (70.66%) | 5,667 (29.20%) |
State Delegate, 43rd District
| | |
| --- | --- |
| Mark Sickles (D) | G. Gail Parker (I) |
| 15,932 (77.80%) | 4,216 (20.59%) |
State Delegate, 42nd District
| | |
| --- | --- |
| Kathy Tran (D) | Steve P. Adragna (R) |
| 16,167 (59.66%) | 10,903 (40.23%) |