Buffalo Bills hire Mount Vernon grad as assistant coach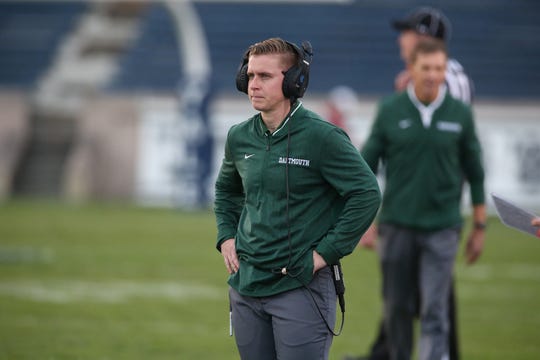 Callie Brownson, who last year became the first woman to serve as an assistant coach in Division I football history, has been hired as a full-time intern on the Buffalo Bills coaching staff.
Brownson was a summer intern for the Bills during their preseason training camp, and Buffalo head coach Sean McDermott decided to bring her on as a full-time assistant, according to the (Rochester) Democrat & Chronicle. Brownson will actually be the third woman to hold a coaching position with the Bills; Kathryn Smith and Phoebe Schecter each held positions with the team in the past few years.
Last year Brownson was an offense quality control coach at Dartmouth after she impressed the Big Green's staff during a stint as an intern with the team. Prior to that Brownson interned in the New York Jets scouting department, and she has also attended various offseason camps — such as the Manning Passing Academy — as she's climbed the coaching ladder.
Brownson is a 2008 graduate of Mount Vernon High School, where she was a standout softball player. She later played professional football for the D.C. Divas, and was a part of their championship teams in 2015 and 2016. Brownson also played for Team USA Women's Football in 2013 and 2017, helping those teams to gold medals.
Brownson got her start as a football coach at Mount Vernon, assisting former coach Barry Wells in 2015. Brownson's extensive football background, going back to her days watching games with her father and playing for a youth team on Richmond Highway, were chronicled in a 2018 feature article in the Vermont newsweekly Seven Days.